Enerpac's low-profile torque wrench offers twice the lifespan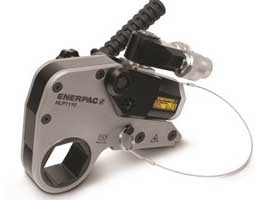 Enerpac, a high pressure hydraulic tool supplier that is part of industrial tools and services company, Enerpac Tool Group, has introduced a new lightweight, low-profile interchangeable torque wrench to the Asia-Pacific and Australasia markets. Enerpac HMT 13000 is said to offer faster operation, fewer moving parts and with rugged alloys that give it 2.5 times the typical lifespan of comparable tools.
The HMT 13000 – which is an extension to the previously introduced HMT product line – is designed especially for low-profile applications only and suits hex sizes from 62 mm to 115 mm AF.
The HMT 13000 delivers output torques from 1,829 to 18,289 Nm in applications including those requiring powerful tool access to confined spaces in tasks in mining and aggregates, oil and gas, infrastructure and construct, manufacturing, maritime and power generation and distribution.
"The HMT 13000 shares the same advantages of low cost of ownership as the broader range, and is also cost-effective and reliable because the cassettes have up to 25% fewer internal components than other manufacturers, reducing the risk of failure and cost of repair," says Enerpac Asia-Pacific Marketing Manager, Tony Cooper.
"The HMT 13000 distinguishes itself through its speed, durability, and efficiency. It is designed to be interchangeable with different tools in the market. When it comes to speed, it offers a best-in-class output-to-weight ratio and is up to 25% faster than leading competitors. As for durability, superior alloys make this tool lightweight and gives it a 2.5x longer life expectancy than comparable tools."
"When it comes to operator efficiency, the modular parts allow for interchangeability, but at the same time guarantee a higher productivity. Its 30-degree angle of rotation saves time and money and is 25% more efficient. Other features that improve operator efficiency are a 360-degree swivel hose attachment, lightweight design that results in less fatigue, and a standard ergonomic safety handle.

The HMT series is complemented by Enerpac's broader range of non-impact professional bolting technologies – including market-leading S and W torque wrenches – and by one of the world's most comprehensive ranges of pump technologies.
These include system-matched electric, air and petrol-powered types as well as the XC Series cordless torque wrench pumps, which are ideal for remote locations, sites that do not have access to power or where having electric cords could cause trip hazards, such as in maintenance workshops.