BASF closes purchase of 49.5% of HKZ offshore wind farm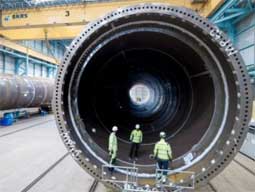 German chemical company BASF has completed the purchase of 49.5% of Swedish power company Vattenfall's offshore wind farm Hollandse Kust Zuid (HKZ) with the approval of all relevant authorities. The transaction was finalised earlier than projected, with the completion scheduled for the fourth quarter of 2021.
The acquisition price is EUR 0.3 billion, according to the deal. BASF's entire investment, including its contribution to support the wind farm construction, is roughly EUR1.6 billion. BASF aims to sell shares to a financial co-investor in order to minimize its investment, it said.
The wind farm in the Dutch North Sea began construction in July 2021. In 2023, the subsidy-free offshore wind farm is projected to be completely operational. With a total installed capacity of 1.5 gigawatts, it will be the world's largest offshore wind farm at the time. The wind farm's electricity will allow BASF to adopt innovative, low-emission technologies at several of its European manufacturing facilities. A significant portion of the electricity produced is said to go to Vattenfall's Dutch customers.
Read: Inadequate infra threatens global offshore wind goals – IHS Markit