BP considering hydrogen hub/ammonia cracker in Germany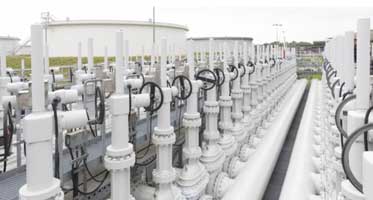 UK oil and gas company BP wants to make its German plant in Wilhelmshaven a hub for hydrogen. The company is looking into building an industrial ammonia cracker there as well as converting existing oil and gas facilities for hydrogen transport. From 2028 on, the planned plant could provide up to 130,000 tonnes/year of low-carbon hydrogen from green ammonia, BP announced. If demand increases, for example for new fuels, further expansion is possible.
BP also wants to supply the ammonia itself. It is to come to Wilhelmshaven from the company's various international green hydrogen projects. The company is currently setting up a number of hydrogen and ammonia export sites in the Middle East, Africa and Australia. The joint plans of Uniper, Tree Energy Solutions (TES) and the port company Niedersachsen Ports for a new jetty for green gases could also play a role in BP's project. The companies signed an agreement to this effect on the fringes of the opening ceremony of the Wilhelmshaven LNG terminal.
The cracker planned by BP is to convert the derivative ammonia into hydrogen in future by splitting the larger molecule into its smaller nitrogen and hydrogen components. The hydrogen is not only to be used locally, but also in the Ruhr area or in other industrial demand centres. To this end, the company wants to use above all the existing infrastructure of the NWO terminal for mineral oil. Specifically, BP proposes to use unused oil and gas pipelines and convert them for hydrogen transport.
From Wilhelmshaven to Wesseling in the Rhineland runs the North-West Oil Pipeline, which is over 390 km long. The long-distance oil pipeline has a capacity of about 16.3 million tonnes/year of mineral oil and supplies a total of four refineries in the Emsland and Rhine-Main regions.