Diverging fates of Iranian and Venezuelan crude imports into China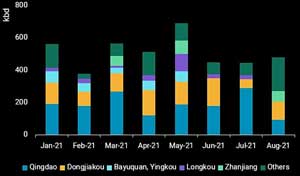 China's imports of Iranian crude in August have remained firm at 480,000 b/d despite tighter crude import quotas issued to the independent refiners, according to Vortexa that provides a complete real-time picture of commodity flows to traders and analysts. With the exception of a spike in May arrivals, imports of Iranian crude into China have averaged 500,000 b/d between January and July. Qingdao, Dongjiakou and Bayuquan, Yingkou ports have emerged as the top three destinations of Iranian crude so far this year, accounting for close to 70% of total arrivals into China.

Steep discounts of Iranian crude barrels compared to spot barrels from Brazil, Oman, Russia and West Africa, have consistently kept them attractive to the Chinese independent refiners, their single largest export market. This trend is expected to continue unless a stringent clampdown on sanctioned barrels is made.
On the contrary, imports of Venezuelan crude, previously masked as diluted bitumen or Malaysian crude blends to evade import taxes, have tumbled from the peak of 580,000 b/d in June to 200,000 b/d this month. Several Merey-laden tankers including a VLCC and Suezmax are anchored as floating storage near Jiangsu and Shandong provinces awaiting discharge. With inventories remaining high and a further disincentive from the consumption tax on diluted bitumen imports, independent refiners' import of Venezuelan crude is expected to stay subdued in the months ahead.