Hengli investing US$1.7 bn in PTA units in China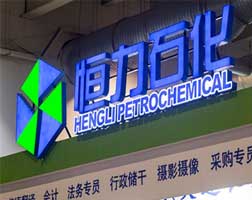 China's Hengli Petrochemical is planning to add another two 2.5 million-tonne/year purified terephthalic acid (PTA) production units in south China. The two new units are scheduled to start up at the end of 2021.
Read: China's Hengli wins approval to import 400, 000 barrels of crude oil per day, the largest to date for a private refiner
Hengli will invest about US$1.69 billion to build the units in the Daya bay petrochemical park at Huizhou in Guangdong province, subject to governmental approvals.
The two units will give Hengli a total PTA production capacity of 16.6 million tonnes/year, making it China's top producer ahead of current market leader Yisheng Petrochemical. Hengli currently operates five PTA production
units in Dalian, the site of its 400,000 barrels/day Changxing Island refinery.
Hengli's announcement adds to a flurry of investments by private-sector Chinese companies in already oversupplied PTA and downstream polyethylene terephthalate (PET) markets.
In September, Hengli's competitors such as Yisheng, Sanfangxiang Petrochemical and Dongying United Petrochemical have all announced plans to expand production capacity.