Ineos to use 100% renewable energy at Norwegian plants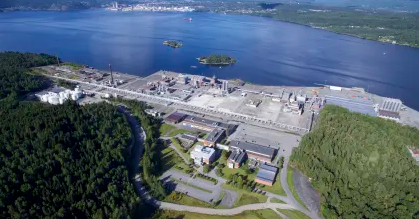 Ineos Olefins & Polymer Europe has signed a renewable power agreement with Skagerak Energitjenester to use 100% green energy at its Rafnes and Bamble plants in Norway. Combined with the recently announced Ineos Inovyn deal, all of INEOS' Norwegian assets will now be supplied with 100% green power. By only using renewable energy, Ineos says it can reduce the carbon footprint of its LDPE products by up to 30%.
The Rafnes cracker produces ethylene for a wide variety of applications, including the production of low-density polyethylene (LDPE) at the adjacent Bamble site.
These LDPE grades are used to produce essential products such as beverage cartons, medical bottles and food packaging seals.
Skagerak Energitjenester CEO, Thomas Peter Jebsen, says, "We are proud that Ineos Rafnes and Bamble have chosen us as their long-term power supplier of 100% green power. With our joint focus on renewable energy, we want to support Ineos in reaching its renewable energy targets and the wider green transition of Norwegian industry".
This is the latest renewable power deal agreed by Ineos O&P Europe as part of its plan to reduce greenhouse gas emissions. Ineos is also investing EUR4 billion building a new ethane cracker, due to start-up in 2026 that will have CO2 emissions of less than 50% of any existing European cracker.
Rob Ingram, Ineos O&P Europe North CEO, adds, "We are pleased to announce this deal with Skagerak Energitjenester. It marks another important milestone on our way to reducing our overall emissions by 33% by 2030. It also shows our continuing focus on developing practical solutions to help our customers deliver on their own commitments to a more sustainable future".