Intel Malaysia operates largest solar farm outside of US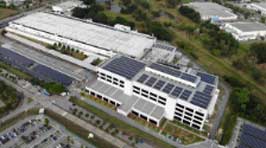 US semiconductor company Intel's Malaysia operations are powering its six-buildings across its Kulim and Penang campus with solar energy via its new 3.2 MW solar installation completed in January this year. The installation is achieving 4.1MW in total installed capacity which is provided by Nefin, a renewable energy developer. The project is Intel's largest solar farm outside of the US.
Read also: Leading global energy firms show interest in world's largest solar farm
The construction work began in 2020; the solar system was put into operation in January 2021. The project contributes about 15% of Intel's global, on-site solar PV electric power capacity. It will also reduce carbon dioxide emissions by about 3,800 tonnes.
Intel has already deployed several solar thermal systems for the supply of domestic hot water to all its campuses in Malaysia and is ongoing with expansion of clean and green energy sources to reduce emissions.