Lotte, SK Gas, Air Liquide in jv for hydrogen fuel cell plant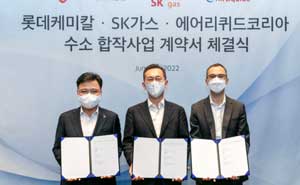 South Korean petrochem firm Lotte Chemical, importer SK Gas and industrial gas supplier Air Liquide Korea are to set up a joint venture for building a hydrogen fuel cell power plant in Ulsan, South Korea, according to Lotte Chemical, which will supply hydrogen for the plant and help secure demand for hydrogen fuel cells through affiliates in the Lotte group.
The planned hydrogen fuel cell power plant is expected to have a generation capacity of 500,000 MWh/year, equivalent to the amount of power that 120,000 four-person households use in a year. The joint venture will then establish hydrogen charging stations nationwide and examine opportunities for further collaborations in blue and green hydrogen.
Lotte Chemical said it is the largest by-product hydrogen producer in South Korea. The firm operates petrochemical units across its production sites in Yeosu, Daesan and Ulsan, and petrochemical complexes typically produce hydrogen as a by-product.
SK Gas also plans to secure and supply by-product hydrogen to the plant through its affiliates in Ulsan. Air Liquide Korea will provide expertise and related technologies for hydrogen supply chain and distribution, as well as for hydrogen charging stations.
The companies signed an initial agreement in May 2021 to co-operate on hydrogen businesses. Lotte Chemical and SK Gas will each hold a 45% stake in the joint venture, with Air Liquide Korea taking the remaining. The joint venture will be managed by Lotte Chemical and SK Gas. The companies are targeting to establish the joint venture within the third quarter of this year after receiving approval from the Korea Fair Trade Commission.