Sekisui Chemical & Tokai Carbon to work on carbon capture and utilisation technology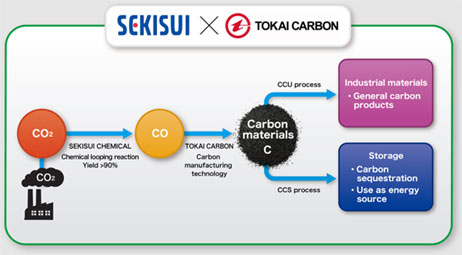 Japanese firm Sekisui Chemical and Tokai Carbon have entered into a partnership for a practical application of the technology for manufacturing various carbon materials and products (CCU) and technology for capturing and storing carbon dioxide as solid carbon (CCS) using carbon monoxide (CO) produced by technology that efficiently convert CO2 into CO (chemical looping reaction technology).
The realisation of this scheme provides a new method of CCS, reduce dependence on fossil resources and contribute to the de-carbonisation in producing various carbon products.
Sekisui says it is currently developing an innovative chemical looping reaction technology that converts CO2 to CO at a high yield 90% using a proprietary catalyst and reaction process.
Meanwhile, Tokai is developing products using raw materials in various forms (solid, liquid, gaseous) considering the suitable compositions and manufacturing methods for each forms. The manufacturing and evaluation technologies backed by more than 100 years endeavour are supporting its development.
This partnership aims to achieve CCU technology, which converts CO2 in exhaust gas derived from the carbon manufacturing process to CO, using chemical looping reaction technology, and then further converts CO to carbon for manufacturing carbon products. CO2 will be stored as a solid carbon and not directly in this CCS technology.
These methods result in a lower amount of CO2 generated from the carbon manufacturing process, as well as a higher conversion efficiency by the two-step conversion method (CO2→CO→Carbon) compare to the direct conversion method (CO2→Carbon) and broaden the potential storage location by eliminating the need to use pressure to stock chemical materials and energies.
If environmental impact and economic feasibility are recognised through this partnership, the companies will proceed with a pilot project and aim to commercialise the technology by 2030.
This partnership will contribute to global decarbonisation and circular economy, by reducing CO2 during manufacturing carbon and its products, with carbon through CCU and reducing CO2 emission through CCS which not limits the CO2 source to carbon manufacturing but from much wider CO2 sources.