SK/Lotte to set up hydrogen joint venture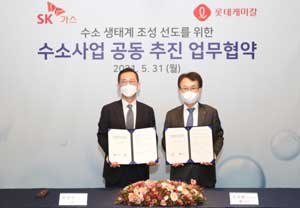 South Korean major conglomerates SK Group and Lotte Group are to strengthen their foothold in the fast-growing hydrogen sector by setting up a joint venture to strengthen their existing hydrogen infrastructure and create new revenue streams using hydrogen.
The agreement was signed by SK Gas Ltd. CEO Yoon Byung-suk and Lotte Group's head of the chemical business unit Kim Gyo-hyun. SK Gas is a subsidiary of SK Discovery Co. and is the market leader in the country's liquefied petroleum gas (LPG) segment.
SK Gas' affiliate SK Advanced Co.'s CEO Kim Chul-jin and Lotte Chemical's CEO of its basic materials division Hwang Jin-goo were also present at the meeting.
The jv will be established by SK Gas and Lotte Chemical.
The new jv will supply by-product hydrogen produced at SK Gas and Lotte Chemical plants to hydrogen charging stations across South Korea and to other areas of hydrogen demand.
Large amounts of hydrogen are produced as a by-product during the petrochemical production processes at Lotte Chemical's Yeosu, Daesan and Ulsan plants, as well as at SK Advanced's Ulsan plant.
The jv will build a total of 100 hydrogen charging stations in the country using SK Gas' existing LPG charging station sites, as well as at Lotte Group's distribution centres and other sites owned by the group.
The new entity will produce liquefied hydrogen using the cold energy generated during the liquefied natural gas (LNG) production processes.
The venture will also build hydrogen fuel cell plants, potentially in Ulsan where there is already a well-established hydrogen infrastructure. SK Gas has a relevant track record with an ongoing project to build a hydrogen fuel cell plant in Gwangju city.