Turkmenistan methanol plant starts up; uses Haldor tech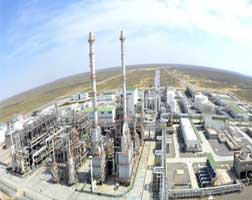 State-owned Turkmengaz has started up the world's largest methanol plant based on Haldor Topsoe AS's proprietary SynCOR autothermal reforming methanol-conversion technology at the operator's recently commissioned natural gas-to-gasoline complex at Ovadan-Depe near Ashgabad, Turkmenistan.
Read: Turkmenistan reveals new petrochemical plant to boost country exports
Located within the gas-to-gasoline complex, the 5,225-tonne/day methanol plant has progressively ramped up production as planned, with all performance targets met, since the complex's official commissioning in mid-2019, according to Topsoe.
Officially entered into operation in June 2019, Turkmengaz's gas-to-gasoline complex uses Topsoe Improved Gasoline Synthesis (Tigas)—involving a combination of SynCOR Methanol technology with a gasoline synthesis loop—to produce 15,500-b/d of synthetic gasoline conforming to Euro 5-quality standards, according to the service provider.
Late in 2019, Turkmengaz signed a memorandum of understanding with Kawasaki Heavy Industries Ltd. and Sojitz Corp. for design and construction of a second gas-to-gasoline complex, also presumably to be based on Topsoe's Tigas technology, the government of Turkmenistan said last year.
In 2016, the government of Turkmenistan valued the cost of the Ovadan-Depe gas-to-gasoline complex at US$1.7 billion.