World's largest green hydrogen facility to be built in Saudi Arabia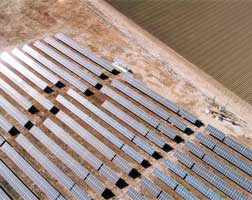 US industrial gas giant Air Products, in conjunction with ACWA Power and Neom, are tying up to build a US$5 billion world-scale green hydrogen-based ammonia production facility powered by renewable energy, ie 4 gigawatts of wind and solar power, the world's largest such project. The project, which will be equally owned by the three partners, will be sited in Neom, a new model for sustainable living located in the north west corner of Saudi Arabia at the border of Jordan and Syria, and will produce green ammonia for export to global markets.
Read: Enegix Energy to build US$5.4 bn green hydrogen facility in Brazil
The joint venture project is the first partnership for Neom with leading international and national partners in the renewable energy field and it will be a cornerstone for its strategy to become a major player in the global hydrogen market. It is based on proven, world-class technology and will include the innovative integration of over four gigawatts of renewable power from solar, wind and storage; production of 650 tonnes/day of hydrogen by electrolysis using Thyssenkrupp technology; production of nitrogen by air separation using Air Products technology; and production of 1.2 million tonnes/year of green ammonia using Haldor Topsoe technology. The project is scheduled to be onstream in 2025.
Air Products will be the exclusive off-taker of the green ammonia and intends to transport it around the world to be dissociated to produce green hydrogen for the transportation market.
"We are honoured and proud to partner with ACWA Power and Neom and use proven technologies to make the world's dream of 100% green energy a reality," said Seifi Ghasemi, Chairman, President/CEO for Air Products. "Harnessing the unique profile of Neom's sun and wind to convert water to hydrogen, this project will yield a totally clean source of energy on a massive scale and will save the world over 3 million tonnes of CO2 emissions annually and eliminate smog-forming emissions and other pollutants from the equivalent of over 700,000 cars."
Mohammad A. Abunayyan, ACWA Power Chairman, said, "Stemming from our belief in Vision 2030 and HRH Crown Prince Mohammed bin Salman's aspirations for Neom to become the global pioneer in sustainable living, the Board of Directors and Management of ACWA Power are proud to take part in this groundbreaking and first-of-its-kind investment in the world. ACWA Power has a proven track record of leveraging pioneering renewable technologies to deliver carbon-free power at the lowest cost. With our global experience, we are confident that our collaboration with an industry-leading company like Air Products will create significant opportunities in the production of green hydrogen, and further us in our goal to help countries meet their clean energy targets and unlock significant socio-economic benefits. Based in Neom's Industrial Cluster, and enabled by its unique mandate, this investment will integrate and localize cutting-edge technologies that will harness solar and wind power to produce sustainable and globally accessible green energy."
Neom CEO, Nadhmi Al Nasr, said, "This partnership reflects our deep commitment to developing a carbon positive society which will be a beacon for sustainable living and a solution to many of the environmental challenges facing the world. This demonstrates the ability of Neom to generate significant partnership opportunities for international and national investors. This is a pivotal moment for the development of Neom and a key element in Saudi Vision 2030 contributing to the Kingdom's clean energy and circular carbon economy strategy. As the world's largest renewable hydrogen project, Neom's Board of Directors, headed by HRH Crown Prince Mohammed bin Salman, and the company's Executive team are delighted to announce this significant milestone for Neom in becoming a global leader in green hydrogen production and green fuels. We are also excited that two world-class organizations, Air Products and ACWA Power, have joined us in developing this major project, the first of many developments at this scale that will put Neom at the heart of a new future society."