BP to evaluate large-scale green hydrogen production in Egypt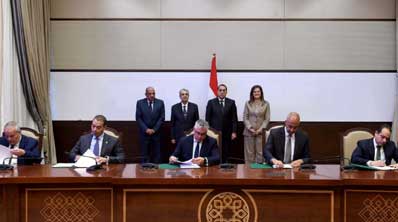 Oil major BP says it has signed a memorandum of understanding with the Egyptian government with the aim of establishing a large-scale renewable hydrogen production facility in the North African country.
Under the MoU, BP will carry out several studies to evaluate the technical and commercial feasibility of developing a multi-phase, large scale green hydrogen (gH2) export hub in Egypt. It is intended that high potential locations across Egypt will be considered as part of the feasibility study, targeting best-in-class resources. Green hydrogen is produced by the electrolysis of water, powered by renewable energy.
"Egypt has world-class renewable energy resources, and we look forward to working with the government to explore how we can support its ambitious low-carbon strategy," BP executive vice president of gas and low carbon energy Anja-Isabel Dotzenrath said in the statement.
The MOU was signed by BP, Egypt's New and Renewable Energy Authority, the Egyptian Electricity Transmission Company, the General Authority for Suez Canal Economic Zone and the Sovereign Fund of Egypt for Investment and Development (TSFE).
TSFE CEO Ayman Soliman said the MOU builds on the fund's green hydrogen portfolio and its "mandate to transform Egypt into a regional hub for green energy."
Hydrogen was a prominent theme at the UN Climate Change Conference hosted by Egypt in Sharm el-Sheikh in November, with several deals and projects launched on the sidelines.
BP CEO Bernard Looney attended COP27 as a delegate of Mauritania, with which the company signed a separate MOU on green hydrogen production at the conference.
BP is developing a portfolio of renewable and low-carbon hydrogen projects globally, including in the UK, Netherlands, Germany, Spain, the Middle East, the US and Australia, it said.