Eneos, Sumitomo partner in hydrogen gas plant in Malaysia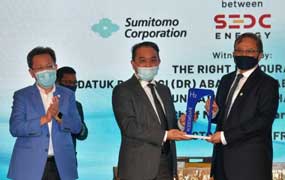 The Malaysian state of Sarawak is planning to export green hydrogen overseas by developing a plant to produce the gas in Bintulu through a collaboration with two Japanese companies: Sumitomo Corp and Nippon Oil's Eneos. With a planned capacity of 1,000 tonnes/year, it is expected to be ready by 2023.
Read: Eneos, Toyota collaborate on hydrogen application at Woven City
A tripartite memorandum of understanding (MoU) to build the plant was signed recently by Sarawak Economic Development Corporation (SEDC) subsidiary SEDC Energy Sdn Bhd, Sumitomo Corporation and Eneos, which is the brandname for products manufactured and sold by JX Nippon Oil & Energy Corp, the largest oil company in Japan.
Sarawak Chief Minister Datuk Patinggi Abang Johari Tun Openg who witnessed the virtual signing ceremony via Zoom application said the state aimed to leverage the abundant raw materials it has, to produce hydrogen.
"This includes cheap electricity tariffs produced by our dams via hydropower to produce the hydrogen gas in a cost-effective way, where the production system would be viable in order to achieve sustainability in the long haul," he said at the ceremony.
He said hydrogen economy is not just a promotional gimmick but the latest trend in pursuit of renewable energy among developed countries like Japan, the European Union, China and the US.
As the use of hydrogen-powered vehicles is expected to pick up by 2023, he said the state-of-the-art plant can be scalable and further expanded for production of 10,000 tonnes/year as the need arises.
Since the project is still at the R&D stage, he said there would be further development especially on cost-reduction measures.
Last year, state-owned utility body Sarawak Energy Bhd, in collaboration with Linde EOX Sdn Bhd, launched Southeast Asia's first integrated hydrogen production plant and refuelling station in Kuching. The plant uses water to produce the carbon-free hydrogen. This represented the first initiative of the Sarawak government towards creating a hydrogen-based economy.
SEDC completed the acquisition of two parcels of vacant land measuring 405.6 ha in Bintulu from Petrolchemical Hub Sdn Bhd, which is a wholly-owned subsidiary of Naim Holdings Bhd, for RM340 million recently.
SEDC has been tasked by the Sarawak government to spearhead the development of the land into a petrochemical park.
Once completed, the plant would have the capacity to export zero-carbon or green hydrogen to Japan and other countries. "Sarawak is aiming to leverage on the abundance of raw materials that we have, including the cheap electricity tariffs produced by our own hydroelectric dams which enable us to produce the hydrogen gas with cost effectiveness in mind," the Chief Minister added.