Environmental group sues Shell over emissions from new PE plant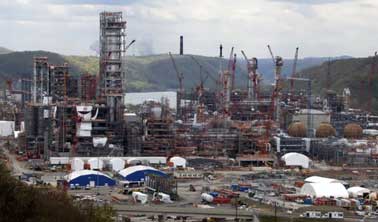 US environmental group Clean Air Council has said that British oil firm Shell is putting residents' at risk by violating air quality standards at its massive new petrochemical plant in western Pennsylvania, in a lawsuit filed recently. At full capacity, the plant is expected to produce 1.6 kg/year of PE.
The cracker, located along the Ohio River about 48 km outside Pittsburgh, opened last year and uses ethane from a vast shale gas reservoir underneath Pennsylvania and surrounding states to make PE.
In the federal lawsuit filed by Clean Air Council, it alleges that operator Shell Chemical Appalachia — a subsidiary of British oil and gas giant Shell — is violating state and federal limits on smog, as well as emissions limits in its state-approved operating plan.
Clean Air Council members who live near the plant are "concerned about the impact of the plant's illegal pollution on their health and the health of their families," the suit said, noting that smog can worsen respiratory conditions such as bronchitis and asthma. The plaintiffs asked a judge to order Shell to bring the plant into compliance, and impose civil penalties of up to US$140,000 per day.
The plant has been shut down for repairs since early April after Shell said it identified a problem with its flaring system, which is designed to burn off unwanted gases. Shell expects to restart the offline units later this month, Smith said. The Clean Air Council said Shell has violated limits on visible emissions from its flares.
Shell was attracted to Pennsylvania because of a drilling boom in the vast Marcellus Shale natural gas field. The company had projected to spend US$6 billion on the refinery, which took years to build.
Environmental advocacy groups had fought the plant and predicted that it would generate more plastic pollution, compounds that form smog and planet-warming greenhouse gases. Shell has said it is using the best available technologies to try to minimize air pollution.
"Shell's persistent law-breaking must end," Joseph Minott, executive director of the Clean Air Council, said in a statement.
Shell's officials declined to comment.