Hanwha/GS to build EVA plant for solar panels in South Korea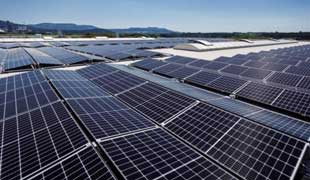 South Korea's Hanwha Solutions, together with GS Energy, an energy arm of GS Group, are setting up a joint venture, H&G Chemical (Hanwha will own a 51% stake), to build and operate a 300,000-tonne/year EVA sheet plant in Yeosu, South Korea, which is to start up in 2025. The company will invest around US$550 million to boost production capacity of its domestic solar panel materials as it pushes for an expansion into the renewable energy sector.
Solar EVA sheets are a key component for solar panels, as they enhance durability and performance. They make solar cells to float between the glass and the backsheet so as to provide protection against shocks or vibrations.
The joint venture will boost Hanwha's EVA production capacity to 920,000 tonnes/year, making it the world's biggest EVA sheet producer, Hanwha said.
Hanwha Solutions' advanced materials unit is also investing 41.7 billion won to expand its EVA sheet production in its production line in Eumseong County, North Chungcheong Province, about 130 km south of Seoul.
Hanwha Q Cells, the solar solutions unit of Hanwha Solutions, will invest 130 billion won to install a production facility for solar modules using the tunnel oxide passivated contact (TOPCon) and large wafers.
TOPCon solar cells are considered next-generation technology, designed to add an ultra-thin oxide layer on top of a film attached to the back of solar cells, helping them absorb more light.