Hyosung to invest US$835 mn on green hydrogen projects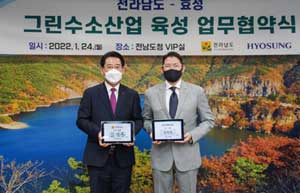 To curb carbon emissions, South Korean industrial conglomerate Hyosung Group plans to invest about US$835 million to build the largest green hydrogen production base in South Korea in South Jeolla Province at the southwestern tip of the Korean Peninsula.
Hyosung Group, led by billionaire Cho Hyun-joon, will build an electrolysis plant—which splits water into oxygen and clean-burning hydrogen—with a 10 megawatt capacity to produce 200,000 tonnes/year of green hydrogen, or hydrogen made using renewable energy.
Hyosung will also produce blue hydrogen from the carbon dioxide emitted from the local industrial complexes using carbon capture and storage (CCS).
The global green hydrogen market is expected to grow from US$580 million in 2020 to $2.94 billion in 2025, according to forecasts by ResearchAndMarkets.com. The research firm cites "increasing environmental concerns" as a driver of the trend.
Cho Hyun-sang, one of the largest shareholders of Hyosung and a member of its controlling family, became a billionaire last year partly because of investor interest in hydrogen.
Hydrogen, green or otherwise, had been shaping up as burgeoning business for Hyosung over the past year. Hyosung Heavy Industries, a subsidiary of Hyosung group, is already building the world's largest liquid hydrogen factory in the southern Korean city of Ulsan. Hyosung's fourth-quarter financial report calls its hydrogen development through 2028 a "full turnkey solution."
Other major South Korean companies are also jumping the hydrogen bandwagon. Hyundai Motor made a deal last year with European chemical giant Ineos to explore joint development of hydrogen technology, and SK Group received a US$2 billion boost in November from US private equity giant KKR to help fuel the South Korean conglomerate's plans to become a hydrogen powerhouse.