Japanese bio jet fuel production and supply bid for 2023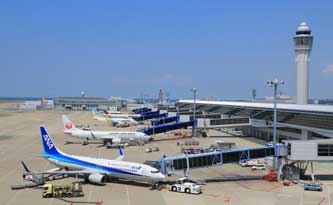 Japan is following in the footsteps of Europe and US – it plans to develop a supply network for bio jet fuel in an effort to reduce emissions of greenhouse gases from aviation. Already, works are underway to construct infrastructure for handling sustainable aviation fuel (SAF) at Chubu Centrair International Airport in Aichi Prefecture, in central Japan.
Testing with SAF will begin with a two-month trial using test aircraft, where flight routes and storage methods are expected to be evaluated. The test will involve 60 (kilolitres) kl of SAF.
Once the testing is complete at Chubu Centrair, SAF will be made available to Japanese and foreign airlines, imported by trading house Itochu from Finland's Neste in the spring of 2023. Bio jet fuel is expected to cost up to 10 times more than conventional fuel.
The use of SAF totaled 63,000 kl worldwide in 2020, or less than 1% of total jet fuel consumption. Last year, the European Union put together a plan mandating its use, while the US implemented tax breaks for producers of SAF.
The Japanese government wants to facilitate adoption of the fuel in Japan and has vowed to replace 10% of aviation fuel with SAF. Japan's jet fuel consumption totaled 13.15 million kl in 2019.
The government is placing priority on creating SAF supply networks and ensuring a steady supply from overseas. "It is not realistic to assume that such fuel can be entirely provided domestically," a transport ministry official said.
Japanese oil companies are also working toward the commercial launch of SAF in Japan. JGC Holdings and Cosmo Oil will build plants to produce SAF, starting in 2025.
Bio jet fuel is made from renewable materials such as biomass and waste resources. Mixing SAF with conventional petroleum-based jet fuel reduces carbon dioxide emissions by 70% to 90%. The Japanese government aims to take the lead in importing the environmentally friendly fuel and in building storage facilities.