McDermott in EPC contract for steam cracker in Russia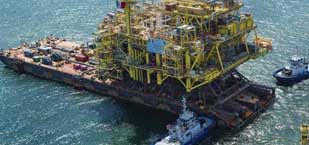 Integrated engineering services provider McDermott is to deliver engineering and procurement for the ethylene cracker of the Gas Chemical Complex (GCC) project—the largest polyethylene integration project in the world—with China National Chemical Engineering and Construction Corporation Seven, Ltd (CC7). This agreement follows McDermott's safe and successful delivery of the front end engineering design (FEED) and early works phases of the project.
The ethane cracker project is owned by Baltic Chemical Complex LLC, (BCC) a subsidiary of RusGazDobycha, located onshore Russia in the Gulf of Finland.
"Our proven experience delivering world-class ethylene cracker projects, underpinned by our collaboration with Lummus Technology and in-house project delivery capability from the FEED to the startup phase, make us the ideal partner to continue supporting CC7 and BCC on the GCC project," said Samik Mukherjee, Executive Vice-President/COO. "We are uniquely positioned to offer integrated, at-scale solutions for our customers—driving safety, quality and delivery certainty."
Under the scope of the agreement, McDermott will provide complete project management, engineering and procurement services, including field engineering, author supervision and the supply of equipment and materials for a two train ethane cracker unit with combined capacity of 2.8 million tonnes/year of ethylene and is licensed by Lummus Technology.
Lummus Technology's proprietary ethylene steam cracking process is the most widely-applied process for the production of polymer-grade ethylene and represents approximately 40% of the world's capacity. McDermott and Lummus Technology work jointly through a strategic agreement that leverages their respective strengths for customers.
"This additional award is testament to McDermott's exemplary performance during the earlier project phases and our ability to provide integrated solutions throughout the entire lifecycle of a project," said Tareq Kawash, Senior Vice President, Europe, Middle East, Africa. "The GCC project is a game changer for the Russian Federation market. It is the biggest single contract in the global petrochemical field and will be hugely impactful in terms of job creation. Our local presence and global resources align directly with its critical success factors."
McDermott has previously collaborated with CC7 on the Afipsky Hydrocracker project and the Lukoil Delayed Coker Unit project.
The GCC project will be executed from McDermott's offices in The Hague, the Netherlands, Brno, Czech Republic and Gurgaon, India.