Sinopec adds sulphuric acid regeneration plant for Ningbo petchem expansion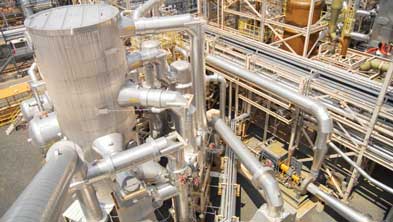 Chinese chemical firm Sinopec Zhenhai Refining and Chemical Co., Ltd (Sinopec) has contracted with MECS and MECS Chemical Plants Equipment (Shanghai) Co, subsidiaries of US-based Elessent Clean Technologies (Elessent), for the license, design, engineering, and equipment for a spent sulphuric acid regeneration plant. This plant will be located at Sinopec's petrochemical complex in Ningbo, Zhenhai province, China. The spent acid regeneration plant will be built in conjunction with Sinopec's planned expansion of its sulphuric acid alkylation and acrylonitrile facilities at the Ningbo site.
The growing use of sulphuric acid alkylation by refineries and increased production of spent sulphuric acid from chemical plants necessitate a resource to process the additional spent acid being produced.
For many companies, consistently dependable regeneration technology is critical to meeting capacity requirements and fulfilling end market demands. MECS dry gas sulphuric acid regeneration (SAR) technology offers producers a highly effective solution that supports the production of very high quality alkylate, while ensuring consistent uptime with limited maintenance requirements.
By introducing an acid regeneration plant into its refinery, Sinopec is reducing as much waste as possible and prioritising air quality. The MECS acid plant and equipment used at the refinery will guarantee tight emissions control and assist with sustainability efforts, as well as long-term profitability, by decreasing dependence on new resources.
The MECS technology has been in use for nearly a century in the phosphate fertiliser, non-ferrous metals (leaching & smelting), oil refining and general chemical industries.
The technologies include MECS heat recovery systems (HRS), MECS SolvR regenerative SO2 scrubbing and MECS MAX3 sulphuric acid production technology. Integrated into these MECS technologies are proven specialty products such as catalysts, Brink mist eliminators, DynaWave scrubbers, ZeCor corrosion resistant alloy products, and acid coolers all of which are specifically designed for the most demanding operating environments.
Licensed and marketed by Elessent Clean Technologies, the technology has more than 400 licensed acid plants worldwide since the 1960s.