Sumitomo /Lotte to collaborate on hydrogen and ammonia projects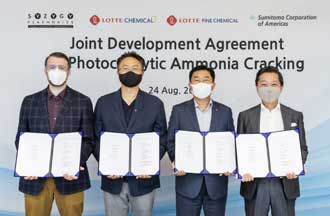 Japanese firm Sumitomo Corporation and South Korean chemical manufacturer Lotte Chemical are to collaborate on hydrogen and ammonia projects, accelerating efforts to achieve a decarbonised society in their respective countries.
Sumitomo and Lotte Chemical have signed a memorandum of understanding (MoU) to jointly look into a wide range of business development opportunities related to hydrogen and ammonia.
This includes joint investments in hydrogen and ammonia production projects in Australia, Chile, and other regions and the establishment of value chains in Japan and Korea as well as the development of ammonia storage terminals in Japan and Korea.
Commercialisation of new hydrogen and ammonia-related technologies and their deployment in the Japanese and Korean markets and collaboration in the carbon capture, utilisation and storage (CCUS) are also included in the MoU.
This is not the first collaboration on such projects for Sumitomo and Lotte Chemical. The two companies are also working with Syzygy Plasmonics, a US hydrogen technology start-up with advanced photocatalytic technology, to conduct the world's first joint demonstration test of hydrogen production by ammonia decomposition using photocatalyst in Korea.