Trelleborg highlights importance of safe crude oil storage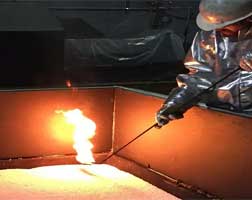 Swedish technology firm Trelleborg's applied technologies operation supports hydrocarbon storage with DryFoam, a proven UL certified non-water fire prevention solution, specifically designed to suppress up to 98% of vapors, protecting people and property from fire.
Read: Trelleborg divests UK offshore oil & gas operation
Trelleborg says its technology is completely passive, working with most flammable liquids including crude oil, gasoline and alcohol.
Robert Kelly, General Manager of Trelleborg's applied technologies operation in Boston in the US, comments: "With crude oil storage increasing and oil tanks filled to capacity, our DryFoam passive fire protection technology not only safeguards people, products and places, but also facilitates safe trading and provides peace of mind."
A proven lightweight alternative to traditional vapor and fire suppression systems, DryFoam is easy to transport and apply and can remain in place for up to 10 years with minimal maintenance. The fire prevention solution can also be applied to an internal floating roof to provide additional protection and peace of mind in the event of a sunken roof situation.
DryFoam engineered spheres are applied directly to the surface of a liquid, where they float and continuously suppress vapors. It can prevent a full surface fire and slow down evaporation rate, removing the need for costly flare burning; something that has a substantial impact on the environment.  When exposed to intense heat from above the coating on the DryFoam beads swells up. This creates an insulating barrier, preventing ignition of the flammable liquid and a consequential full surface fire.
Kelly, continues: "DryFoam is a non-water-based fire protection system specifically designed for high vapor pressure flammable liquids. The material can be applied in virtually all climates, including extremely cold or hot conditions, where obtaining a water-based or 'wet' fire suppression is challenging."
DryFoam is UL certified, having undergone extensive testing. This certification covers buoyant media intended for protection against full-surface fires in fixed flammable and combustible liquid tanks and repositories that operate by providing a thermal barrier between the surface of a liquid and potential sources of ignition.