Air Products and Binhua in long-term gas supply contract in China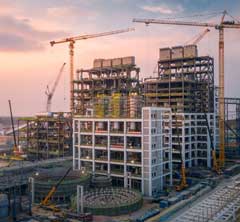 Air Products has signed a long-term gas supply contract with Shandong Binhua New Material Co., a subsidiary of Befar Group which is a leading petroleum and chemical enterprise in China, to support Binhua's flagship chemical project located in the Beihai Economic Development Zone of Binzhou City, Shandong Province, China.
Under the contract, Air Products will build, own and operate several onsite gas production facilities in the Binzhou Port-centered Chemical Industry Park in phases, including an energy-efficient air separation unit (ASU), to meet Binhua's gaseous oxygen and nitrogen demand. The ASU will also provide liquid products to other customers in the park and the growing merchant market in Shandong Province. All facilities will be fully operational in 2022.
"Befar Group is one of the most influential chemical companies in China. We are honored by the trust our customer has placed in Air Products to support their important project. We look forward to deepening the cooperation with them as they accelerate their expansion plans and business transformation," said Saw Choon Seong, China President at Air Products. "We have already established a strong presence in the strategic industry clusters in Shandong Province. Our latest investment will further strengthen our integrated gases supply position to support the rapid development of this world-class park in Binzhou as well as the transformation and upgrading of the chemical industry under China's 14th Five-Year Plan."
"We are very pleased to work with such a world-leading industrial gases company. The successful signing of this contract gives us great confidence that our cooperation with Air Products will continue to expand in the long run," commented Jiang Sen, President of Befar Group.
Taking advantage of Beihai Economic Development Zone's industrial development, geographical location and natural resources, the high-end Binzhou Port-centered Chemical Industry Park has already attracted several major chemical companies, including Binhua. Binhua's RMB 51.5 billion yuan (USD 7.5 billion) two-phase propane and butane integrated utilization project involves world-leading technologies and green production and will comply with China's latest environmental regulations. Air Products' highly energy-efficient facilities will supply reliable gases to this project for producing a variety of chemical materials for use in high-growth new materials and new energy products.
Air Products has been operating in China since 1987 and was one of the first multinational industrial gases corporations to invest in the country. With nearly 90 operating entities, over 200 production facilities and more than 4,000 employees, the company has already established a strong market position across China and serves a broad range of industries. In Shandong Province, Air Products has built a strong presence and supply network since its first investment in 1995, comprising several operating entities, production facilities, hydrogen fuelling stations and engineering design capability.
Read: Air Products to build net-zero hydrogen energy complex in Canada