Borealis's polyolefin in component allows for energy transition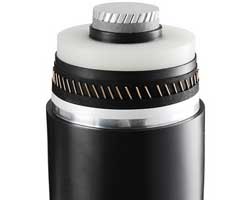 Austrian chemical firm Borealis says in its efforts to facilitate a more sustainable energy future, it has introduced the high voltage direct current (HVDC) cable compound based on its Borlink technology. It is being used in crosslinked polyethylene (XLPE) power cables qualified for the tender of the "German corridor projects". This undertaking will transport renewable energy from wind farms off the north coast of Germany to southern areas of the country.
Read: Borealis's EUR17 mn investment to lower CO2 emissions in Finland
Borealis says its Borlink is "a crucial component" in XLPE high-voltage power cables enabling HVDC technology transmitting electricity over longer distances with minimal losses. What is more, the material XLPE offers the additional sustainability benefit of being recyclable.
Borlink LS4258DCE, an unfilled XLPE insulation compound, along with the accompanying HVDC semicon Borlink LE0550DC, was initially launched in 2014. This was a step-changing innovation because it enabled the use of extruded cable technology at significantly higher voltage and transmission levels than ever before. This cleared the path for XLPE extruded technology to allow a more efficient transmission of renewable energy from remote sources to the grid, contributing to a low carbon energy future.
Yet XLPE offers even more than superior, waste-minimising performance: it is also recyclable. By sorting, separating, and grinding XLPE cable waste, for example in the form of redundant cables, valuable and durable materials can be reclaimed. Among other applications, XLPE recyclate may be used as filler in various polyethylene (PE) and polypropylene (PP) compounds.
One Borealis partner, the leading power cable provider NKT, recently announced that it is one of the first cable manufacturer to use recycled XLPE in the production of cable drums. NKT was able to contribute thereby to the circularity of polyolefins in the power cable industry. It is further estimated that this process saves approximately up to around two tonnes kilos of CO2 for every tonne kilo of recycled XLPE.
"Borealis is contributing to decarbonisation in multiple ways," says Lucrèce Foufopoulos, Borealis Executive Vice President Polyolefins and Innovation & Technology. "The successful qualification of Borlink technology for the tender of an infrastructure project like the German Corridor projects shows that we have come full circle. Our polyolefin-based innovations have become crucial links to the energy transition.  This is just one of many examples of Borealis' contribution to a "greener future for all" through innovation and collaboration.
In line with efforts to enhance sustainable development in all aspects of company operations, Borealis says it is reducing its CO2 footprint at its own facilities. By 2030, the company aims to have significantly reduced CO2 emissions from operations by using 50% of electricity from renewable sources; by increasing energy efficiency by 20% compared to a 2015 baseline; practicing zero continuous flaring; and capitalising on opportunities for carbon capture, utilisation, and storage. To this end, current projects in Europe include:
Upgrading cracker operations: in Stenungsund, Sweden, Borealis invests in upgrade and revamp of four cracker furnaces to the highest currently available standards in process safety and energy efficiency. This EUR160 million Investment programme entails revamping four of the current six furnaces and shutting down completely the two remaining, ageing ones.
Using, not wasting, excess heat: in Stenungsund,  excess low temperature heat produced at Borealis production facilities has been used since 2010 to power portions of the municipal district heating system. In 2018 alone, Borealis Stenungsund delivered 51 gigawatt hours (GWh) of heat to the city. This is equivalent to 5 million l of fuel and reduces CO2 emissions by approximately 12,000 tonnes/year.
Open innovation for heat recovery: collaboration with award-winning start-up Qpinch has led to the establishment of the first ever full-scale commercial heat recovery unit. Located at the Borealis low-density polyethylene (LDPE) plant in Zwijndrecht/Antwerp, Belgium, the unit helps save around 2,200 tonnes/year of CO2, comparable to the annual emissions of 1,500 small family cars.
Reducing non-emergency flaring: flaring is a necessary safety measure in which excess gases that cannot be recovered are safely burned. Yet because flaring results in noise and emissions, Borealis aims to keep flaring to a minimum. At the Antwerp low density plant, waste gases have been redirected to a recycling stream. This has lowered continuous emissions by 20% and corresponds to a reduction of around 2,000 tonnes/year of CO2.
Clean conversion of Navigator Aurora: since 2017, the state-of-the-art vessel Navigator Aurora has transported cost-efficient ethane from a US refinery to the Borealis cracker in Stenungsund. To make the vessel itself more environmentally friendly, its engine was converted to run on ethane. This was the first diesel engine conversion of its kind for a low-speed marine vessel.