Construction of Petronas/Aramco ethylene project in Malaysia completed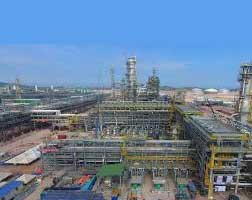 Toyo Engineering Corp. and its subsidiaries have completed engineering, procurement, construction, and commissioning (EPCC) services on the 1.3 million-tonne/year ethylene plant at <https://prefchem.com/> Pengerang Refining and Petrochemical in Johor, Malaysia. It was delivered to PRefChem Refining (Pengerang Refining) in December 2019, the service provider said recently.
Read: Dow collaborates with Petronas on ethylene oxide production in Malaysia
The steam cracker complex is situated at the <https://www.saudiaramco.com/> Saudi Aramco- <https://www.petronas.com/> Petronas jointly held US%28 billion <https://pic.petronas.com/Pages/default.aspx> Pengerang Integrated Complex (PIC) project, located 400 km south of Kuala Lumpur.
The complex also will produce 630,000 tonnes/year of propylene, 185,000 tonnes/year of butadiene, 660,000 tonnes/year of pygas, 175,000 tonnes/year of benzene, and 550,000 tonnes/year of methyl tertiary butyl ether (MTBE), according to Toyo.
The steam cracker complex forms part of PRefChem's 300,000-b/d refinery and petrochemical integrated development (RAPID) project at PIC that, once fully operational, will produce a range of refined products, including gasoline and diesel, meeting Euro 5-quality fuel specifications to help the Asia Pacific's growing need for petroleum and petrochemical products, as well as naphtha-LPG feedstock for its combined 3.6 million-tonne/year integrated cracker and downstream petrochemical complex.
While the RAPID project was scheduled to reach start-up by year-end 2019, Petronas/Aramco have yet to confirm the current status of operable units at the site.