Covid-19: JG Summit postpones start-up of petchem units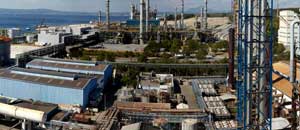 Against the back of the country's lockdown, Philippine's JG Summit Petrochemicals Group has postponed the start-up of several of its expanded downstream petrochemical units to the fourth quarter this year.
Read: JG Summit H1 net income increases 4.4%
The new capacity additions include a 250,000 tonne/year-high-density polyethylene unit, an expanded 300,000 tonne/year-polypropylene plant and a new 70,000-tonne/year butadiene extraction unit.
The start-up of a new aromatics plant will also be delayed to the final quarter for the same reason. The design capacity of the aromatics unit is 126,000-tonne/year of benzene, 76,000-tonne/year of toluene and 46,000-tonne/year of solvent-grade mixed xylenes.
JG Summit had completed a 50% ethylene production expansion to 480,000-tonne/year early this year, together with a 25% increase in propylene capacity to 240,000 tonnes/year.