Edge/Ineos develop protection for operational wind farms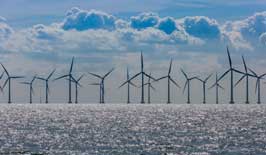 Styrenics maker Ineos Styrolution and Edge Solutions, a Scottish innovator of wind energy generation, have developed armourEDGE protection for wind turbine blades based on a customised version of Ineos's Luran SC material.
'Leading edge erosion' is a serious issue with large commercial wind turbine blades. It is caused by environmental impacts including rain, hail, ice, salt and UV. Such damage of the blade surface leads to increased drag and ultimately to reduced energy production. It also drives operating cost up due to increased maintenance, regular blade replacement and downtime of the generator.
While the issue already exists for onshore installations, it becomes even more significant for offshore windfarms, operating under extreme conditions.
Based on specifications defined by Edge Solutions, Ineos developed a specific material solution using its Luran SC product. This material became the basis for the armourEDGE shield – a leading edge protection solution that significantly reduces the impact of environmental factors on the leading edge of wind turbine blades. The armourEDGE shield leads to significantly less downtown and maintenance cost. It also results in an increase in annual energy production.
Their armourEDGE system is currently being installed on an operational offshore wind farm in northern Europe.
David Urch, Managing Director, Edge Solutions comments: "Leading edge erosion is a significant issue for wind turbines, offshore and onshore. With tip speeds approaching 330 km/h, continual impacts by rain, hail, ice and other airborne particulates damage the blade surface, leading to increased drag and reduced energy production. This drives up operating cost due to increased maintenance downtime and ultimately blade replacement."
He added, "Over the last four years we have worked closely with the team at Ineos Styrolution to develop our armourEDGE product which maintains the blades' aerodynamic properties and is extremely durable. With rapid installation, this results in less downtime and improved profitability for wind farm owners."
Luran SC product line is comprised of blended ASA[1] with PC[2]. The material provides high heat resistance, stiffness and excellent impact strength. It is very stable towards oxidation. Because of its inherent robustness, Luran SC is the material of choice for a wide range of challenging outdoor applications.