Engie starts up 100MW Kerian solar project in Malaysia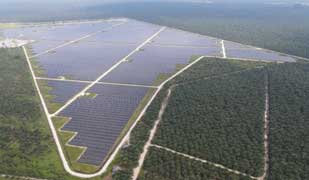 Energy transition and renewable power generation provider Engie says that the Kerian solar project is now in commercial operation. Located in the state of Perak, Malaysia, the project has a 100 MW capacity and was developed by Kerian Solar, a special-purpose company formed by a joint-venture between TTL Energy Sdn Bhd, a leading Malaysian solar developer and Engie.  
Despite challenging soil conditions and the impact of Covid related restrictions, Kerian Solar reached its commercial operation 22 months after commencement of construction activities in 2020, with Ditrolic Energy as EPC contractor.
Kerian Solar was awarded the project under Malaysia's third round of the large-scale solar (LSS3) tender in 2019 by Suruhanjaya Tenaga (ST), the energy commission regulating the energy industry in Malaysia and Sabah. However, initial studies began in late 2018, with BNP Paribas Malaysia Berhad, MUFG Bank (Malaysia) Berhad and Sumitomo Mitsui Banking Corporation Malaysia Berhad all subsequently supporting the green financing for Kerian Solar.
Upon reaching its commercial operation, Kerian Solar entered into a 21-year PPA with Tenaga Nasional Berhad (TNB) to sell CO2 emissions-free electricity generated by the solar photovoltaic (PV) energy plant. The energy produced will be transmitted to the grid to support the Malaysian government's target of generating 20% of the country's energy through renewable means by 2025.
Kerian Solar will supply more than 212 GWh of power per year, offsetting around 139,000 tonnes of CO2 annually, the equivalent of eliminating the annual carbon emissions of 11,800 Malaysian households.
"We are thrilled by the commissioning of our first solar farm in Malaysia which is an important step towards the delivery of our renewable growth ambitions in Southeast Asia and contributes to Engie's commitment to reach 50 GW of installed renewable energy sources capacity in the world by 2025," said Thierry Kalfon, Managing Director, Engie Renewables for Australia and Southeast Asia.
CEO of Ditrolic Energy, Tham Chee Aun said, "With the completion of this 136 MW project, we are proud to demonstrate that Ditrolic Energy is able to complete a project of such scale in an extremely challenging environment against the backdrop of the pandemic. This project would not have been possible without the support of our partner Engie, various government agencies and the Ditrolic team."