Chart Industries and partners to develop virtual gas pipelines for India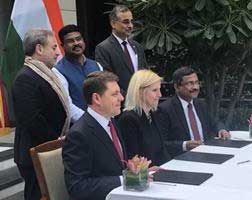 Chart Industries, a manufacturer of cryogenic equipment used in the production, storage and distribution of liquefied natural gas (LNG); ExxonMobil India LNG Limited, and Indian Oil Corporation (IOCL) are cooperating on pioneering virtual pipelines to accelerate gas access in India. Virtual pipelines deliver LNG by road, rails and waterways not connected by physical pipelines.
Read: India to build 6,900-km gas pipelines connecting to Bangladesh, Myanmar
In early 2019, Chart signed an MoU with IOCL to promote the development of the LNG Market in India, focusing on modular liquefaction, regasification applications, LNG bunkering, fueling stations and alternative LNG mobile transportation including ISO containers.
Chart vets on the collaboration to accelerate India's ability to offer a cleaner energy solution within the growing cities and networks.