MHI, partner companies form Hamburg Hydrogen Network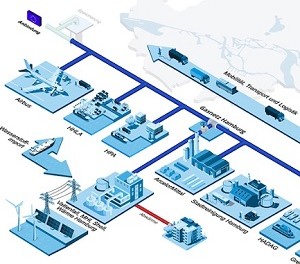 A dozen companies, including Mitsubishi Heavy Industries (MHI), Shell, Vattenfall, and Warme Hamburg – which comprised the Hamburg Green Hydrogen Hub; together with Airbus, ArcelorMittal, Gasnetz Hamburg, GreenPlug, Hamburger Hafen und Logistik, Hamburg Port Authority, HADAG Seetouristik und Fahrdienst , and Stadtreinigung Hamburg, have formed the Hamburg Hydrogen Network (Wasserstoffverbund Hamburg).
Both the German Federal Government and the European Union want to support high-profile projects in order to lay the foundation for a strong hydrogen economy in Europe. In a first joint effort, the Hamburg Hydrogen Network has submitted an application under an EU-wide support programme.
The network's projects, linking hydrogen production, distribution, and utilisation across a range of applications, will contribute to significant emission reductions, targeted at 170,000 tonnes/year by 2026. Through local electrolysis, sea-side imports, and connection to the emerging European hydrogen network, the Hamburg Hydrogen Network has the potential to reduce Hamburg's current 16 million tonnes in CO2 emissions by more than 1 million tonnes annually by 2030.
The green hydrogen produced by the Hamburg Green Hydrogen Hub primarily would replace fossil fuels in industrial production as well as in the transport and logistics sector. The additional utilisation of the waste heat from the electrolysis for the district heating network and the thermal treatment of municipal waste would reduce the environmental footprint of a variety of industries even further.
A coal power plant in Hamburg-Moorburg is being planned to be converted into a scalable 100-MW electrolysis plant for the production of green hydrogen from renewable energy. The Port of Hamburg, with its wide network of potential industrial applications and service partners, offers a unique location-specific advantage to creating a viable hydrogen economy.
In addition, the network should produce a variety of positive spillover effects throughout Germany and across Europe. It is already closely linked to other activities among Germany's northern neighbours. The international cross-border collaboration will be pivotal to the creation of a viable European hydrogen economy that includes renewable energy and hydrogen production facilities, integrated infrastructure and distribution as well as a variety of demand generators from heavy industries to road, rail, water, and air transport.
The application submitted by the twelve companies to the EU-wide "Important Projects of Common European Interest" (IPCEI) funding programme represents nine complementary projects to achieve this objective in the Port of Hamburg. Financial support by the Federal German Government under the IPCEI programme is necessary to implement this landmark interconnection project and close the price gap between green hydrogen and fossil solutions.