MHIEC delivers incinerators for first WtE plant in Xiaogan City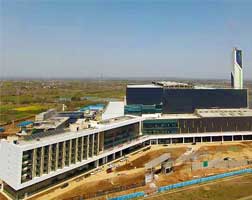 Mitsubishi Heavy Industries Environmental & Chemical Engineering Co, Ltd (MHIEC), a part of Mitsubishi Heavy Industries (MHI) Group, supplied two state-of-the-art stoker furnaces – an incinerator in which waste is placed on a bed of heat-resistant metal castings to be dried, heated and incinerated while being stirred – for a large-scale waste-to-energy (WtE) plant in Xiaogan, Hubei Province, China.
The Xiaogan Garbage Incinerating Power Plant is the first WtE facility in Xiaogan, and which started commercial operation in January this year. It has a capacity to process about 1,500 tonnes of waste/day, along with the capability to utilise waste heat from combustion to generate electricity. These advanced incinerators have enhanced the combustion efficiency of the plant to allow for stable treatment of waste with high moisture content.
MHIEC has supplied more than 300 waste treatment facilities in Japan and around the world, with more than 50 incinerators delivered to China since the 1980s.