AC Energy solar farm in Zambales starts operation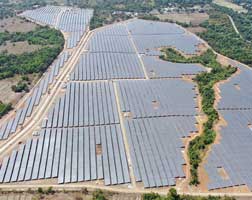 AC Energy Corporation's (ACEN) 63 MW GigaSol Palauig solar farm has begun operations, generating power for supply to the Luzon grid. The Php2.39 billion facility located in Zambales is the first of AC Energy's five new plants to begin operating in 2021. It will generate over 90 million KWh of clean power to support the country's demand.
Related News: Largest solar farm in the Philippines set to power entire Tarlac province
ACEN has also started the construction of its next solar farm in Arayat-Mexico, Pampanga. The 72 MW solar project is a 50-50 joint venture with Citicore Solar Energy Corporation (CREC). The project, which approximately costs Php 2.75 billion, will start-up operations and supply power to the grid by the summer of 2022.