PyroCO2 kicks off: converting CO2 emissions into products in Europe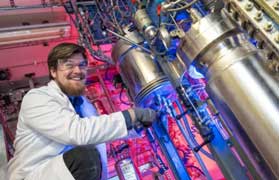 A new innovation project will demonstrate large-scale conversion of industrial carbon emissions into value-added chemicals and materials. The project, conducted by a consortium of 20 industrial and research partners from 11 countries, aims to demonstrate a new path to create value from industrial CO2 emissions while improving the sustainability of the chemical industry in Europe. The European Commission is funding PyroCO2 with EUR40 million in support of the European Green Deal, the plan to make the EU's economy sustainable and climate-neutral by 2050.
The scope of PyroCO2 is to establish and demonstrate an innovative platform for CCU that turns industrial CO2 into chemical building-blocks using a new biotechnological approach. These are then converted further catalytically into a wide range of products, including other value-added chemicals (such as components for paints and plastic), synthetic fuels, as well as recyclable or biodegradable materials normally produced from fossil hydrocarbons.
The PyroCO2 factory will be located at the industrial cluster of Herøya Industrial Park in Porsgrunn, Norway, featuring several carbon-intensive industries. Here, the PyroCO2 process will benefit from close to 100% renewable electricity and complement ongoing large-scale carbon capture and storage (CCS) efforts in Norway. Once successfully demonstrated, replication and further upscaling is envisioned throughout Europe and beyond.
The aim of this five-year project with a total budget of EUR44 million is to build and operate a facility capable of capturing 10,000 tonnes of industrial CO2 per year, an equivalent to the annual CO2 emissions from 2,200 cars and use it to produce chemicals.
"We are excited to finally start our ambitious work that aims to be a gamechanger for European carbon-intensive industries. These will be able to create valuable products from their CO2 emissions, meeting the need for a lower carbon footprint while maintaining their competitiveness and being a part of the solution for the climate," said Senior Research Scientist Alexander Wentzel at SINTEF, the independent Norwegian research institute that coordinates the project.
ABOUT THE PROJECT
•     PyroCO2 is a five-year Innovation Action project in support of the European Green Deal
·        Aim: Design, build, and operate a production facility capable of demonstrating chemical production from close to 10,000 tonnes of industrial CO2 per year
·        Project period: 1 Oct 2021 to 30 Sep 2026
·        Budget: close to EUR44 million, of which EUR40 million is EC funding
·        Partners: SINTEF (coordinator, NO), SecondCircle (DK), Danmarks Tekniske Universitet (DK), Arkema France (FR), Le Centre National De la Recherce Scientifique (FR), Karlsruher Institut für Technologie (DE), Ciaotech SRL (IT), Axelera (FR), Firmenich SA (CH), NORCE Norwegian Research Centre AS (NO), Herøya Industripark (NO), Chalmers Tekniska Hoegskola (SE), Bioprocess Technology (ES), Norner Research (NO), SCG Chemicals (TH), Johnson-Matthey PLC (UK), Ranido S.R.O. (CZ), NextChem SPA (IT), Ecoinnovazione SRL (IT), Vestfold og Telemark Fylkeskommune (NO)
· Funding: This project has received funding from the European Union's Horizon 2020 research and innovation programme under grant agreement No 101037009.