Reliance shelves US$15-bn Aramco stake; to focus on clean energy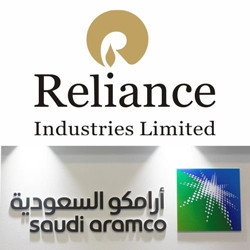 Indian conglomerate Reliance Industries says it is not going to go ahead with the 20% stake sale in its oil-to-chemicals business to Saudi Arabia's Saudi Aramco and has pulled back from a potential spinoff of its most profitable unit, due to the evolving nature of Reliance's business portfolio, it added. This comes after Reliance missed two self-imposed deadlines. Both companies said they would look at broader areas of cooperation due to the changing energy scenario and Reliance added that it will continue to be Saudi Aramco's "preferred partner" for investments in India's private sector.
Reliance also said in a statement that following this mutual decision by both companies, it would drop its plan to create a separate oil-to-chemicals unit, which was proposed to be named Reliance O2C and comprises its twin oil refineries at Jamnagar in Gujarat, petrochemical assets and 51% stake in fuel retailing joint venture with BP.
Reliance went on to say, "The deep engagement over the last two years has given both Reliance and Saudi Aramco a greater understanding of each other, providing a platform for broader areas of cooperation. Saudi Aramco and Reliance are deeply committed to creating a win-win partnership and will make future disclosures as appropriate," it added.
"Reliance shall continue to be Saudi Aramco's preferred partner for investments in the private sector in India and will collaborate with Saudi Aramco & SABIC for investments in Saudi Arabia," the statement said.
The decision to re-evaluate the proposed sale comes at a time when Reliance is stepping up efforts to embrace renewable energy business amid plans to be carbon neutral by 2035.
Reliance and Aramco signed a non-binding letter of intent in August 2019 for a potential 20% stake acquisition by Saudi Aramco in the O2C business of Reliance. Over the past two years, both the teams made significant efforts in the process of due diligence, despite Covid-19 restrictions.
The deal would have closed by March 2020. The deadline was missed and the company blamed pandemic controlling restrictions, imposed towards the end of March 2020, for hampering due diligence. This year too, at the AGM, Reliance Chairman Mukesh Ambani stated that the deal would close by the end of the year.
In line with the company's plans to invest US$10 billion in the next three years in clean energy initiatives, Ambani recently announced the construction of a giga factory in Jamnagar for the storage of intermittent energy as part of the Dhirubhai Ambani Green Energy Giga Complex project.
Four giga factories will be part of the Jamnagar complex, which will include an integrated solar photovoltaic module factory; an advanced energy storage battery factory for storage of intermittent energy; an electrolyser factory for production of green hydrogen; and a fuel cell factory for converting hydrogen into motive & stationary power.
Reliance operates the world's biggest refinery complex at Jamnagar in the western Indian state of Gujarat with a combined capacity of 1.2 million b/d.
Read: Reliance/Aramco deal delayed; Reliance to spin off oil-to-chemical business