Russia dashes to contain oil spill near Norlisk, potential risk to Arctic Ocean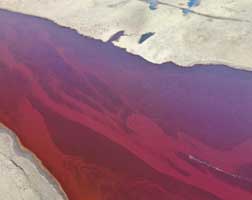 Touted as the worst industrial catastrophe of its kind, tonnes of oil products from a Russian industrial power plant near Norlisk leaked into a fresh water lake near the Arctic north, and projected to spread into the Arctic Ocean, according to reports.
Read: Massive oil spill devastates Indonesia; claims lives of 5 fishermen
On 29 May, a fuel tank in a plant owned by world's largest nickel and palladium producer Norilsk Nickel collapsed, spilling 20,000 tonnes of oil into the river Ambarka, which flows northward into the Arctic Ocean.
The incident prompted Russian President Vladimir Putin to declare a state of emergency.
Based on investigations, the melting permafrost may have caused the collapse of the tank, weakening its supports. Weeks of unusually warm weather in the Arctic are symptomatic of global warming, experts added.
The fuel has also spread to Lake Pyasino, which serves as the basin for the Pyasinariver. The latter flows to the Kara Sea, part of the Arctic Ocean.
Clean-up teams are rushing to contain the spill and have removed about 23,000 cubic metres of tainted soil, according to reports.
Water sources could be adversely impacted by the pollution, Greenpeace Russia experts said, adding that the situation could also endanger the animals that drink the water and the plants growing on the banks.