Shell Catalysts designs crude distiller column for Raízen Argentina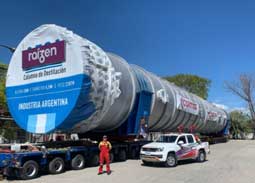 Raízen Argentina's refinery in Buenos Aires, working with Shell Catalysts & Technologies (SC&T) and more than 25 Argentine companies, has built and erected a new crude distiller column in November 2021. It is part of a project that strategically positions the refinery for the future in relation to the processing of unconventional crude, such as that from the Vaca Muerta basin. It also improves the flexibility of the refinery and allows it to adapt more easily to current market conditions.
The new crude distiller column measures almost 50 m high and six m in diameter, weighing more than 245 tonnes. It took seven days to transfer the column from the fabrication site to the refinery, travelling more than 60 km in a special, 77 m long truck.
The new crude distiller column and the revamped side stripper and drier columns should allow uninterrupted operation throughout its target cycle length. SC&T developed the new crude distiller column design specifications and performed adequacy checks for the side stripper and drier columns. Shell C&T also provided the internals design consisting of Shell Calming Section Trays, Structured packing and Conventional Downcomer trays.
At project completion, the new crude distiller column will be integrated with other existing equipment in the Crude Distiller 5 unit. Although this is unconventional, the team was able to overcome some design challenges and use a significant portion of the existing assets. This enables Raízen Argentina to maintain their operational efficiency and productivity along with a wider operating range.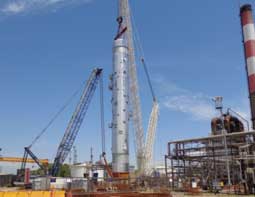 This project enables the refinery's Crude Distiller 5 unit to process shale oil from the Vaca Muerta basin. This allows Raízen Argentina to optimise its crude diet from a strategy and economic standpoint. The unit aims to process maximum throughput of light API shale oil while maintaining the capability of processing also mid API range crude oil.
"The new crude distiller column will be able to process lighter crude oil, which will allow Raízen Argentina to produce lighter products which will help reduce the carbon footprint of the refinery," said Diego Esposito, Sales Director LATAM with SC&T. "We continuously strive to help our customers to increase their efficiency and reduce CO2 emissions."
The project improves the ability of Raízen Argentina to be flexible and adapt to current market conditions, but also makes significant contributions to its sustainable management through the generation of efficiencies that allow better yields and reduction of emissions.
Raízen is an integrated energy company which produces and sells ethanol, sugar, fuels and bioenergy. It is a joint venture between Royal Dutch Shell and the Cosan Group with a presence in Brazil since 2011. In 2018 Raízen established itself in Argentina, and since 2021 the company is also active in Paraguay.