US imposes sanctions on UAE, South African and Chinese companies for dealing with Iran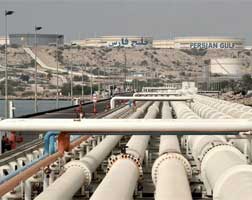 Claiming that Iran is utilising oil sales to fund its terrorism activities, the US has imposed sanctions on five United Arab Emirates (UAE)-based companies, for having collectively purchased in 2019 hundreds of thousands of tonnes of petroleum products from Iran.
Read: Italy, Greece snub Iran oil despite US exemption grant
According to the US Treasury Department, the blacklisted companies are Petro Grand FZE, Alphabet International DMCC, Swissol Trade DMCC, Alam Althrwa General Trading and Alwaneo LLC.
These companies are deemed to purchased the petroleum products in 2019 from the National Iranian Oil Company for UAE use.
This announcement follows the recent blacklisting of Chinese and South African companies over the Iran oil trade. It is a further indication Washington would not ease its campaign of choking off Tehran's ability to export its oil, despite appeals from China and others that it do so on humanitarian grounds because of the coronavirus outbreak.
The State Department claimed in a statement that those sanctions were meant to deprive Iran of "critical income from its petrochemical industry and further Iran's economic and diplomatic isolation."
Apart from UAE companies, those targeted include Iran's Armed Forces Social Security Investment Company Hong Kong-based Mcfly Plastic Hk Ltd, Saturn Oasis Co, Sea Charming Shipping Company Ltd; South Africa's SPI International Proprietary Ltd And Main Street 1095; and Chinese companies Dalian Golden Sun Import & Export Co. Ltd., Tianyi International (Dalian) Co. Ltd. and Aoxing Ship Management (Shanghai) Ltd.
The sanctions also freeze any US-held assets of the companies and generally bar Americans from doing business with them.