Covid-19: Shell temporarily halts construction on ethane cracker in Pennsylvania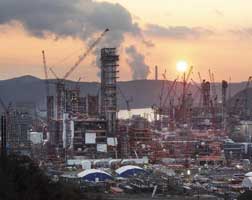 Shell Chemicals has said it is temporarily suspending construction activities at its Beaver County ethane cracker plant to mitigate the spread of Covid-19. The plant has been closed and more than 8,000 workers sent home.
Read: ExxonMobil starts up Baytown ethane cracker
The plant will "reset" construction activities from a period spanning days to weeks. During this time, the petrochemical complex will undergo a deep cleaning and be installed measures aligned with US Centers for Disease Control and Prevention guidance.
"The health and well-being of our workers and nearby communities remains Shell's top priority," said Hilary Mercer, Shell Pennsylvania Chemicals vice president. "That's an ethos we live by every day, but it's especially relevant at a time when the world is taking drastic measures to contain the spread of the Covid-19 virus. The decision to pause was not made lightly, but we feel strongly the temporary suspension of construction activities is in the best long-term interest of our workforce, nearby townships and the Commonwealth of Pennsylvania."
Now that Beaver County has two positive coronavirus cases, and more have been confirmed in neighbouring Pennsylvania and eastern Ohio counties, some questioned whether Shell's decision to keep roughly 8,000 workers on-site was in the best interest of Beaver County residents.
Potter Township's ethane cracker plant is nearing completion, with thousands of pipe fitters, electricians and welders on site. The petrochemical facility was slated to open in the early 2020s.
Company representatives did not comment on how suspension may affect the project's completion date.