Adnoc/Taqa tie-up in 30 GW renewable energy projects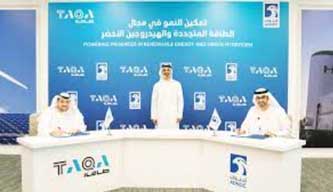 UAE's Abu Dhabi National Oil Co. (Adnoc) and Taqa are to jointly develop at least 30 GW of renewable energy by 2030 under the country's 2050 net zero strategy.
The efforts will focus on domestic and international renewables developments, waste-to-energy projects and green hydrogen production, though no specific initiatives were unveiled in the announcement.
"The partnership between Adnoc and TAQA envisages both parties entering into detailed joint venture arrangements as well as the completion of necessary transaction requirements, including obtaining relevant third-party and regulatory approvals," the companies said in the statement.
State-owned Adnoc pumps the vast majority of crude oil in the UAE, which is OPEC's third largest producer, while publicly-listed Taqa, also known as Abu Dhabi National Energy Co., is the emirate's state-run energy holding company.
"The landmark clean energy partnership brings Adnoc and TAQA's green hydrogen development projects together by combining TAQA's expertise in the development and optimization of renewable power, in particular low-cost solar power and Adnoc's ongoing efforts to create domestic and international hydrogen value chains," Adnoc said in the statement.
The UAE was the first Middle Eastern country to commit to a net-zero emissions target, with US$163 billion in planned renewables investments.
Adnoc, which aims to decrease its greenhouse-gas emissions intensity by 25% by 2030, aims to use nuclear and solar energy to completely power its operations to bolster its claims of pumping some of the world's least carbon-intensive crudes.
The UAE is targeting a 25% global market share of low-carbon hydrogen by 2030 with the launch of its "hydrogen leadership roadmap" at the UN Climate Change Conference.
The roadmap sets out support for domestic, low-carbon industries and aims to establish the country as a leading hydrogen exporter.
The UAE already has seven hydrogen projects underway, and is targeting a large share of key export markets, including Japan, South Korea, Germany and India, as well as other markets it identifies as being of "high potential" in Europe and East Asia.
Adnoc produces over 300,000 mt/year of blue hydrogen, and plans to increase this to 500,000 mt/year.
Read: Elkem opens energy recovery plant in Norway; to boost renewable energy