Adnoc allocates US$15 bn to low-carbon solutions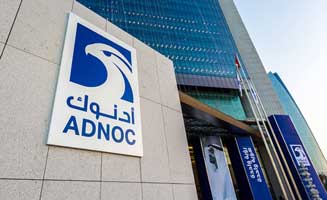 Chemical firm Adnoc has announced a bold new strategy to progress the world-scale decarbonisation of its operations, to accelerate delivery of its low-carbon growth strategy and the approval of its Net Zero by 2050 ambition. This builds on Adnoc's track record as a leading lower-carbon intensity energy producer, which includes its use of zero carbon grid power, a commitment to zero flaring as part of routine operations and deployment of the region's first carbon capture project at-scale.
Acting on the Board's guidance, Adnoc has allocated US$15 billion to advance an array of projects across its diversified value chain by 2030. These projects will include investments in clean power, carbon capture and storage (CCS), further electrification of its operations, energy efficiency and new measures to build on Adnoc's long-standing policy of zero routine gas flaring. Adnoc says it will apply a rigorous commercial and sustainability assessment to ensure that each project delivers lasting tangible impact.
Throughout 2023, a suite of new projects and initiatives will be announced, including a first-of-its-kind CCS project, innovative carbon removal technologies, investment in new, cleaner energy solutions and strengthening of international partnerships. Together with the recent formation of the Adnoc's new Low Carbon Solutions and International Growth Directorate, these represent tangible and concrete action as the company reduces its carbon intensity by 25% by 2030 and moves towards its Net Zero by 2050 ambition.
Sultan Ahmed Al Jaber, UAE Minister of Industry and Advanced Technology and Adnoc Managing Director/Group CEO, said: "Under the directives of the UAE's wise leadership and the Adnoc Board of Directors, Adnoc continues to take significant steps to make today's energy cleaner while investing in the clean energies and new technologies of tomorrow. Now, more than ever, the world needs a practical and responsible approach to the energy transition that is both pro-growth and pro-climate, and Adnoc is delivering tangible actions in support of both these goals."
Building on Adnoc's Al Reyadah facility, which has the capacity to capture up to 800,000 tonnes of CO2 per year, the company will announce plans to deploy technologies to capture, store and absorb CO2 by leveraging the UAE's geological properties while preparing for its next major investment to capture emissions from its Habshan gas processing facility. Combined with Adnoc's planned expansion of its carbon capture capacity to 5 million tonnes per annum (mtpa) by 2030, the UAE will be firmly established as a worldwide hub for carbon capture expertise and innovation.
Adnoc's expansion of CCS is planned to support the significant scale-up of hydrogen and lower-carbon ammonia production capabilities in Abu Dhabi as Adnoc advances a world-scale 1 mtpa blue ammonia production facility at TA'ZIZ, the industrial services and logistics ecosystem that is enabling the expansion of the Al Ruways Industrial City, as well as Abu Dhabi's wider chemicals, manufacturing and industrial sectors. To-date, ADNOC has already delivered test cargoes of low-carbon ammonia to Europe and Asia.
Adnoc's expansion of its new energy portfolio will largely be delivered through its stake in Masdar, the UAE's clean energy powerhouse with over 20 gigawatts (GW) of clean energy today and plans to increase its capacity to 100 GW by 2030. Masdar is also spearheading the UAE's drive to develop a leading position in green hydrogen.
Since January 2022, Adnoc has received 100% of its grid power supply from Emirates Water and Electricity Company's (EWEC) nuclear and solar energy sources, making it the first major company in the industry to decarbonize its power at scale through a clean power agreement of this kind. Adnoc also concluded a US$3.8 billion deal to build a first-of-its-kind, sub-sea transmission network in the MENA region, connecting its offshore operations to the onshore power network, with the potential to reduce its offshore carbon footprint by up to 50%.
Building on the multi-billion capital investment in decarbonisation projects, Adnoc says it is working closely with its international partners and stakeholders across the energy value chain to collaborate on technology, best practices and policy to support and drive global decarbonisation efforts.