Japan/Saudi Arabia tie-up on clean energy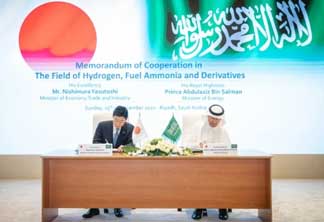 Last year, Japan signed two sets of cooperation agreements with Saudi Arabia in the areas of hydrogen, fuel ammonia and carbon recycling, strengthening the current relationship primarily based on buyer and supplier of crude oil.
The cooperation agreements were the latest in Japan's efforts to develop its large-scale supply chains of hydrogen and fuel ammonia in the Middle East, where it sees great potential in competitive production for decarbonising the country's power generation and industries.
The agreements were signed by Japan's Minister of Economy, Trade and Industry Yasutoshi Nishimura and Saudi Arabia's energy minister Prince Abdulaziz bin Salman on the sidelines of the first round of the Japan-Saudi Arabia energy dialogue in Riyadh.
The ministerial-level meeting took place following a proposal by the Saudi energy minister to the late Japanese Prime Minister Shinzo Abe during his visit to Saudi Arabia in January 2020 to launch the Japan-Saudi Arabia energy dialogue.
Saudi Arabia accounts for close to 40% of Japan's crude oil imports as the largest supplier.
Under the two memoranda of cooperation, Japan and Saudi Arabia will accelerate the use of hydrogen in transport, promote research and development of hydrogen and fuel ammonia technologies and their use at the local, bilateral, regional and international levels.
The two countries will also explore possibilities of conducting a joint study or pilot project that accelerates the deployment of such technologies as direct air capture, carbon capture, utilisation and storage (CCUS)/carbon recycling and low carbon fuels such as e-fuel, gaseous fuels, methane, fuels derived from CO2 and methanol.
The formal ministerial-level cooperation agreements followed efforts at corporate levels, including the world's first transport of a blue ammonia cargo in 2020 from Saudi Arabia to Japan to be used for power generation, with the CO2 capturing process designated for use in methanol production at SABIC's Ibn-Sina facility, as well as capturing CO2 used for enhanced oil recovery at Saudi Aramco's Uthmaniyah field.
In October last year, the Japan Organisation for Metals and Energy Security (Jogmec) signed a memorandum of cooperation with Saudi Aramco on hydrogen and fuel ammonia developments, under which Jogmec will actively consider providing risk money for projects involved with hydrogen and ammonia production in Saudi Arabia.
Japan's largest refiner Eneos said in March 2021 that it signed a memorandum of understanding with Aramco to consider development of a CO2-free hydrogen and ammonia supply chain as it accelerates efforts to develop hydrogen production, transport and sales businesses.