Bosch and Qingling Motors form JV, cooperate on fuel cells for China market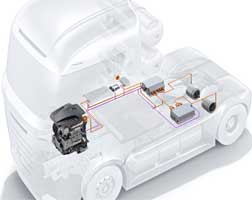 German engineering and technology company Bosch and Chinese vehicle manufacturer Qingling Motors established a joint venture in China, named Bosch Hydrogen Powertrain Systems (Chongqing) Co Ltd.  The new company will develop, assemble and market fuel cell systems called Fuel Cell Power Modules for the Chinese market. For years now, Bosch has been working with Qingling in China in the areas of fuel injection and exhaust-gas treatment.
The jv aims to provide all Chinese vehicle manufacturers with fuel cell systems. The components required for this, such as the fuel cell stack, air compressor with power electronics, and control unit with sensors, will come from Bosch, mainly from its plant in Wuxi, where small-scale production will start this year. This year, a test fleet of 70 Qingling trucks equipped with Bosch's Fuel Cell Power Module will hit the road. The market launch of the fuel cell system is planned for 2022/2023.
Read also: Symbio advances hydrogen mobility with new dev't projects, construction of largest hydrogen fuel-cell in France
Meanwhile, at its German locations in Bamberg, Feuerbach, and Homburg, Bosch is also driving forward the industrialisation of the fuel cell.  Together with Swedish specialist Powercell, Bosch is currently developing the fuel cell stack to be market-ready, in order to start large-scale production on its own from 2022 onwards.