BP to invest EUR2 bn in Spanish green hydrogen cluster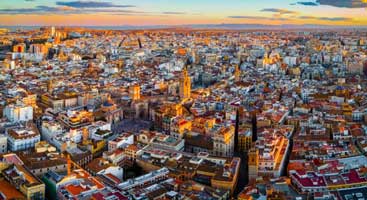 Oil firm BP has launched the green hydrogen cluster of the Valencia region (HyVal) at its Castellón refinery. Led by BP, this public-private collaborative initiative is intended to be based around the phased development of up to 2GW of electrolysis capacity by 2030 for producing green hydrogen at BP's refinery.
HyVal is expected to play an instrumental role in decarbonising the operations of BP's Castellón refinery. Its transformation – including green hydrogen, biofuels and renewable energy – could see BP invest a total of up to EUR2 billion in Castellon by 2030.
Green hydrogen – generated by the electrolysis of water using renewable power – will support decarbonisation of the refinery's operations, replacing its current use of 'grey' hydrogen generated from natural gas.
Its production of biofuels is expected to increase three-fold, to 650,000 tonnes/year 2030. Green hydrogen will also be used as a feedstock in biofuel production, specifically of sustainable aviation fuel (SAF).
HyVal was launched today by Andrés Guevara, president of BP Energía España, in a presentation attended by more than 200 people, including Spain's Minister of Industry, Commerce and Tourism, Reyes Maroto, the president of the Generalitat Valenciana, Ximo Puig, and the mayor of Castellón, Amparo Marco.
In addition to being used by BP at the refinery, the green hydrogen produced will also be used in key hard-to-abate industries in the Valencia region, such as the ceramic industry replacing the natural gas used in their processes, chemical industries for the production of green ammonia and in heavy transport.
HyVal aims to support the development of Valencia region into a leader for the production of green hydrogen in Spain. Its hydrogen production is expected to be developed in phases.
The first, anticipated to be operational in 2027, will involve the installation of an electrolysis plant with at least 200MW capacity at Castellón refinery. This initial stage would be expected to produce up to 31,200 tonnes/year of green hydrogen. Use of this green hydrogen to replace natural gas is estimated to be able to avoid more than 300,000 tonnes/year of CO2 emissions when used first in the refinery and then in thermo-intensive industries and heavy transport. This green hydrogen will also be used as a feedstock for the production of SAF (Sustainable Aviation Fuel), at the refinery.
In the second phase, which could be completed in 2030, the electrolysis plant would be expanded to reach a capacity of up to 2GW of net installed power. Green hydrogen production from such a world-scale plant could support both regional and national demand, as well as positioning Valencia region to export green hydrogen to the rest of Europe through the Mediterranean corridor of green hydrogen H2Med.
BP aims to build a leading position in green hydrogen globally and produce 0.5-0.7 million tonnes/year of mostly green hydrogen by 2030. It is progressing a number of green hydrogen projects throughout the world, including in the UK, Australia and Germany.