Companies to test electric chemical reactor for clean hydrogen output in South Korea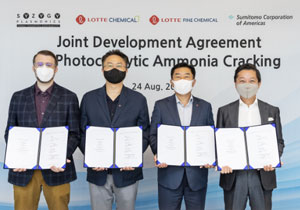 Three companies: Syzygy Plasmonics, Lotte Chemical, and Sumitomo Corporation of Americas (SCOA) have announced a joint development agreement to test a fully electric chemical reactor for clean hydrogen production.
The reactor will be installed and brought online in the second half of 2023 at Lotte's HQ facilities in Ulsan. The agreement identifies Lotte Chemical HQ and SCOA as early adopters of technology and reinforces their position as leading the effort to decarbonise South Korea.
Among other climate-focused goals, Lotte says it is setting the stage to advance the hydrogen economy in the country. Plans include importing green ammonia that can be readily transported and stored before it is converted into clean hydrogen. It is expected to generate 1.2 million tonnes/year of hydrogen domestically by 2030.
The traditional thermal "cracking" of ammonia uses high heat and pressure to convert it to hydrogen gas. The heat required to drive this process is achieved by burning fossil fuels, making ammonia cracking extremely carbon intensive. Using fully electric reactors allows hydrogen producers to reduce or eliminate their reliance on combustion as the energy source for processing ammonia.
SCOA first invested in Syzygy in 2019 and since that time, the companies have worked together to deploy its technologies. Syzygy has developed platform reactor technology that uses light from ultra-high-efficiency LEDs to power chemical reactions by removing the need for heat from burning fuel. Syzygy's process offers a new way to electrify chemical manufacturing and eliminate emissions associated with powering chemical processes. The company has demonstrated its ability to efficiently split ammonia and produce hydrogen gas without combustion.
Development results show the technology will not only reduce the carbon footprint of hydrogen production, but it will also help reduce costs. Lotte's installation marks the first time the technology will be deployed at a commercial scale.