Dangote utilises Mammoet's additive technology to improve ground bearing capacity at refinery construction site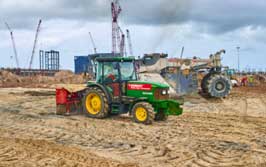 Nigerian industrial group Dangote has used Dutch company Mammoet's Enviro-Mat in the construction of its new oil refinery – the largest of its kind in the Lekki Free Zone, Lagos State.
Enviro-Mat is a highly-developed soil improvement methodology, consisting of a combination of local soil, cement, and additives including minerals, salt, and zeolites, which increases the ground bearing capacity up to 50 tonnes per sq m.
For the construction of the refinery, over 52,000 tonnes of components were required, including a 2,000 tonnes crude column and a 3,000 tonnes regenerator. The requirements in the Lekki Free Zone were complicated further by its location on the reclaimed ground next to the coast. To withstand the required weight and frequency of traffic, the surrounding swampland needed to be reinforced.
Working with Nigerian partner Northridge Engineering, Mammoet was selected to meet this challenge. Mammoet applied this additive to lay-down areas, hardstands, and crane pads covering over 500,000 sq m of the refinery site.
All surfaces and substance in all seven Enviro-Mat yards were created, including lay-down areas totaling 253,776 sq m, assembly surfaces totaling 36,059 sq m and 78 heavy-lift crane hardstands totaling 80,000 sq m – at a maximum rate of around 5,000 sq m per day. Once fully operational later in 2021, the refinery will process 650,000 barrels of crude oil per day.