Gastech show goes global in Milan; 16 country pavilions confirmed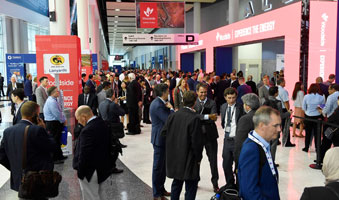 The September-scheduled Gastech show, with co-hosts Baker Hughes, Chevron, Eni, and Tellurian, is targeting 16 national pavilions from across the globe, including those supported by the US, France, Germany, Italy, and Norway. Taking place in Milan, Italy, from 5-8 September 2022, Gastech is the world's largest integrated conference and exhibition supporting the global natural gas, LNG, hydrogen, and low-carbon solutions value chain.
Hosting over 4,000 delegates, and over 38,000 attendees, Gastech will feature more than 750 exhibitors from across the energy value chain, including the 16 national pavilions.
Hosting SMEs, technology, and service providers from around the world, the pavilions will enable attendees to explore global solutions across the value chain and will help pavilion exhibitors secure ground-breaking new commercial agreements with EPC contractors, OEMs, agents and distributors, and meet potential investors, says the show organiser Dmg Events.
As the energy market undergoes profound changes, there is an enormous range of commercial opportunities for businesses up and down the natural gas value chain and the show allows nations to shape the global energy ecosystem.
As the host country, Italy's presence at Gastech will be wide-reaching across the conference and exhibition floor with the participation of leading industrial majors Eni, Snam, Saipem, Maire Tecnimont and Edison, as well as institutions including Regione Lombardia, Assorisorse, and ANIMA. The Italian pavilion will feature over 40 companies spanning the domestic and global energy value chains. As well, 20 of Italy's most promising energy entrepreneurs developing the next generation of energy transition solutions will also feature at a Start Up Zone delivered in partnership with Assorisorse, and the Italian Trade Agency.
Leading German companies, including RWE, Uniper, Evonik, Linde and Protego, will exhibit alongside 40 other companies in the largest German Pavilion in Gastech's history, hosted by the German Federal Ministry for Economic Affairs and Climate Action, in partnership with Verband Deutscher Maschinen- und Anlagenbau (VDMA), the German Hydrogen and Fuel-Cell Association, and the German-Italian Chamber of Commerce.
The US will see broad participation by over 50 exhibitors: from majors ExxonMobil, Chevron, and ConocoPhillips; LNG exporters Tellurian, Cheniere, Venture Global, Freeport LNG, MexicoPacific, Next Decade, and Sempra; EPC contractors Fluor, Bechtel, Kiewit; as well as many more technology and service providers from across the value chain. The US pavilion is supported by the US Commercial Service, who will be bringing international delegations from over 20 countries.
The full complement of Gastech country pavilions will include pavilions hosted by Brazil, Canada, China, Egypt, France, Germany, India, Indonesia, Italy, Japan, Norway, South Korea, Spain, Turkey, UK, and the US.
Joerg Buck, CEO of the German-Italian Chamber of Commerce (AHK Italien), commented: "This year's German pavilion at Gastech will be the largest in the show's history and we are delighted to be supporting so many German companies in engaging the global energy community. This is a significant time for the industry and Gastech will be an important commercial opportunity for German companies."