Orlen Unipetrol targets US$1 bn green projects until 2030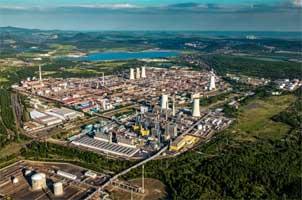 Orlen Unipetrol, the largest refinery and petrochemical company in the Czech Republic, has revealed its development strategy until 2030, including decarbonisation, higher energy efficiency, emphasis on renewables, plastic recycling, and advanced biofuels. Also included is the modernisation of its chemical facility in Záluží near Litvínov, Czech Republic where the current boiler plant for the steam cracker's operations is replaced with a brand-new gas boiler plant and the latest equipment for emission reduction installed at the unit has helped to lower dust emissions by 50% and NOx emissions by 70%.
Together with its parent company Orlen, it will transform from a traditional petroleum-oriented firm into a multi-energy corporation. The leading projects within this strategy should include the construction of a steam-and-gas cogeneration heating plant and photovoltaic plant in Záluží near Litvínov, enhanced offering of alternative fuels at Benzina Orlen petrol stations in the Czech Republic and Slovakia, plastic recycling, production of advanced biofuels, and hydrogen infrastructure development for passenger transport, road haulage and railway transport. Digitization will be implemented where appropriate. It plans to spend CZK5 billon on digital transformation and implementing of digital solutions until 2030.
The group expects the volume of fossils in the products sold to drop from 5 million to 4.4 million tonnes/year. The annual volume of advanced biofuels will reach 0.2 million tonnes. These fuels will be produced according to circular economy principles by processing plastic waste or organic waste.
The global demand for petrochemical products keeps rising, which is why the Orlen Unipetrol Group sees significant development potential in this segment. It is ready to leverage this potential by producing modern, high-density polyethylene in its new polyethylene unit (PE3) and introducing a new product, dicyclopentadiene (DCPD). It will be produced in a brand-new unit from the end of 2022. With these and other petrochem-oriented projects, it will boost the total petrochem production from 0.9 million tonnes to 1.2 million tonnes/year. Plastic waste recycling will account for up to 15 % of the total polymer production.
In the energy segment, Orlen Unipetrol will continue decarbonizing its energy sources. It is gradually replacing the existing coal-fired heating plants with new steam-and-gas facilities and solar sources. Projects of crucial potential include the construction of a new combined steam-and-gas source in Záluží near Litvínov, which would replace the worn-out T700 heating plant, the energy heart of the largest chemical site in the Czech Republic.
By 2030, it also plans to increase the number of petrol stations from the current 440 to 570 in the Czech Republic and Slovakia. The firm will continue developing its end-to-end offer of fuels, including traditional and alternative fuels such as CNG, LPG, electricity, and hydrogen. By 2030, Orlen Unipetrol intends to install chargers at 230 petrol stations and hydrogen dispensers at 28 outlets in the Czech Republic and 26 in Slovakia. The company will also continue developing its successful Stop Cafe concept. This concept and the supplementary sales account for 24% of Benzina Orlen's total retail margins. It will be 35% in 2030.
The firm will also develop its activities related to hydrogen as an energy carrier to be used in production processes, the energy sector, and transportation. This year, it will install hydrogen dispensers at the first two filling stations in Prague-Barrandov and Litvínov. Other sites will follow in Brno and Plzeň. By 2030, Orlen Unipetrol plans to install these dispensers at 28 stations. The hydrogen infrastructure for road haulage will be available in large cities and along the major transport routes in the Czech Republic. All of this will ensure the Czech Republic's connection to the infrastructure in the neighbouring countries.
In Litvínov and Neratovice, the company plans to set up two hydrogen distributing centres and make hydrogen accessible to railway transportation, too. These two sites will also produce zero-emission and low-emission hydrogen. Besides the traditional hydrogen production from oil, the company will also use water electrolysis and membrane electrolysis from chemical processes with the help of renewable energy.
Read: KBR awarded ethylene contract for PKN Orlen olefins complex