Petronas ties up with six South Korean companies for CCUs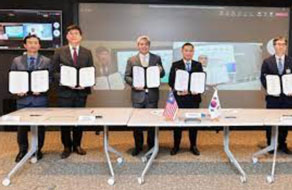 Malaysian oil giant Petronas recently signed a Memorandum of Understanding (MoU) with six South Korean companies to undertake conceptual and feasibility studies towards establishing a cross-border carbon capture and storage (CCS) project in the country. The six companies are Samsung Engineering Co., Ltd., Samsung Heavy Industries, SK Earthon Co., Ltd., SK Energy Co., Ltd., GS Energy Corporation and Lotte Chemical Co.
The Shepherd project will capture carbon dioxide (CO2) generated from industrial complexes and store it in a hub in South Korea before transporting to Malaysia for final storage. Carbon emissions from several companies can be processed through hubs, increasing efficiency in processing and transporting.
The companies plan to expand the project in the future by inviting participation from other carbon-emitting companies in South Korea. The other five South Korean companies include petroleum exploration firm SK Earthon, construction firm Samsung Engineering, shipbuilder Samsung Heavy Industries, petrochemical producer Lotte Chemical and private-sector firm GS Energy, SK Energy announced on 3 August.
The partners plan to develop an entire CCS value chain, from exploring domestic reservoirs in Malaysia to collecting, transporting and storing domestic carbon emissions. They will first carry out a feasibility study before moving on to further develop a full value chain.
Securing storage overseas is essential because of a lack of such storage space in South Korea, according to SK Energy. Malaysia is the best location given its storage capacity and geographical accessibility to South Korea, it added.
"We will continue to pursue collaborations with domestic and international companies, as international vessel transfer and overseas storage are expected to play a larger role in decarbonisation efforts," said SK Energy's head of net zero energy Hong Jeong-eui.
The area to be surveyed in the Shepherd feasibility study is adjacent to oil block SK 427 offshore Malaysia's Sarawak state where SK Earthon is the operator with an 85pc stake. It is the first project to create a link between upstream and CCS businesses, said SK Earthon's head of technical centre Han Young-ju.
Other South Korean companies like Posco International and Posco Engineering and Construction are also teaming up with Petronas to jointly explore opportunities in CCS technology and CO2 storage solutions in Malaysia.
CCS must be carried out before 2030 for South Korean companies to achieve their nationally determined contributions to reduce carbon emissions, SK Energy said. This will in turn support South Korea's efforts to achieve net zero emissions by 2050.
Petronas adds the collaboration is "part of deliberate steps to build a sustainable portfolio with innovative solutions to produce energy responsibly, supporting the transition to a lower carbon future through collaborative efforts with industry partners".