Total acquires stake in Yunlin, signs 640 MW offshore wind project in Taiwan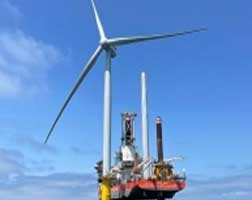 French energy company Total has signed an agreement with Germany-headquartered  a renewable energy project operator and developer WPD to acquire a 23% stake in Yunlin Holding, the owner of Yunlin offshore wind farm located off the coast of Taiwan, around 200 km southwest of Taipei. The project, currently under construction, will have a production capacity of 640 megawatts (MW) and benefits from a 20-year guaranteed-price power purchase agreement (PPA) with the state-owned company Taipower of US$ 250/MWh for the first 10 years and US$ 125/MWh for the following 10 years.
Read also: Total to install 25 MW of solar rooftops for a Thai company
Located around 10 km offshore at water depths ranging from 7 to 35 m, the wind farm will comprise 80 wind turbines with a unit capacity of 8 MW. Construction is scheduled to be completed in 2022. Once on-stream, the project will produce 2.4 terawatt-hours (TWh) of renewable electricity per year, enough to serve the power needs of 605,000 households.  The project reached a major milestone with the installation of the first wind turbine on April 23.