Air Liquide builds its largest ASU plant in Zhangjiagang; provides tech to world's largest hydrogen station in China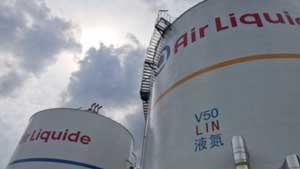 French industrial gases supplier Air Liquide, and China's largest private steel enterprise Jiangsu Shagang Group have signed a new long-term agreement for the supply of industrial gases in Zhangjiagang City, Jiangsu Province, China. Air Liquide will invest around EUR 100 million towards the construction of a world-scale Air Separation Unit (ASU) – the largest single ASU for the steel industry in the world, as well as Air Liquide's largest ASU in China – on the site, where it already operates two other ASUs.
It is equipped with the proprietary solution Alive, an innovation that allows for the storage of up to 60 MW of energy/day, enabling flexibility in the grid and contributing to a higher reliability of gas supply. Replacing old assets installed on the customer site, and using an incremental proportion of low-carbon energy, this new ASU will contribute to a lower carbon footprint for this flagship site.
This new ASU will also be a new source of krypton and xenon to address the growing demand of the Electronics industry, as well, the Zhangjiagang site will also become Air Liquide's largest liquid oxygen and nitrogen source in China, with its Ultra Purity Oxygen capacity positioning it strategically to support small-and-medium sized customers of liquid and packaged gases, including local hospitals requiring high-purity medical gases, in East China, according to Air Liquide.
Under a 20 year-long contract, Air Liquide will build, own and operate the new 3,800 tonnes of oxygen/day-capacity ASU. When the new unit starts up at the end of 2023, it will bring the total installed oxygen capacity to over 8,000 tonnes/day on the site.
In a related development, Air Liquide's technology has been chosen for the world's largest hydrogen station in Beijing. The Daxing hydrogen station equipped with Air Liquide technology is the world's largest hydrogen station with a capacity of nearly 5 tonnes/day. The station is part of a 200,000 sq m International Hydrogen Energy Demonstration Zone, which includes an exhibition hall opened to the public and inaugurated July 8 2021.
Air Liquide Houpu Hydrogen Equipment Co, Ltd, a subsidiary of Air Liquide Group, supplied and installed 8 hydrogen dispenser units for the Daxing station, owned and operated by Beijing Hypower Energy Technology Ltd. With a capacity of 4.8 tonnes, this station can refuel 600 hydrogen fuel cell vehicles (cargo van, garbage truck and bus) per day, making it the largest in the world in terms of refuelling capacity. Air Liquide Houpu also provided commissioning and training services to the station's employees to ensure smooth operation.